Avengers Campus: Photos, Videos, Full Avengers Campus Review
Avengers Campus at Disney California Adventure includes a great new attraction, highly themed dining options, interactive next generation character experiences, and shops with new Marvel merchandise. This area is a must see for Marvel fans and for any guests at Disneyland because the themed attraction, food and interactions are so detailed and comprehensive.
The Avengers Campus area is always evolving and changing with the latest Marvel Studios film and television series. There are constantly new characters being added.
Discount Disneyland Tickets
Our favorite Disney-approved re-seller, Get Away Today,offers the best Disneyland discount tickets around. In addition to great discount prices, their customer service and easy support is absolutely fantastic. They have an entire department dedicated to making sure every order has a wonderful experience and they are on-call to help you during your vacation if you need them.
Book your discount tickets NOW >
Buying tickets from Get Away Today is easy and convenient since all their tickets are sent electronically. You can take their vouchers and head straight to the gate without needing to wait in any ticket booth lines. They also offer layaway plans so you can pay off your vacation over time.
You can read my review on my personal experiences booking through Get Away Today and how to save money on cheap Disneyland tickets.
Kang Coming to Avengers Campus
The new Marvel villain featured in the Ant-Man and The Wasp: Quantumania film is coming to Avengers Campus. Kang the Conqueror has moved through time to engage recruits in the land and seeking information on the heroes in his timeline. Kang will only be at California Adventure for a limited time.

In honor of the new Ant Man movie, this "Ooze Cauldron" is going to be available for a limited time at Pym Test Kitchen. There is a hilarious scene in this new movie featuring this "Ooze" making this sipper a popular choice to bring to the land.
Avengers Campus: Multiverse Third Attraction
This Avengers Campus third attraction is inspired by the multiverse. Imagineers have come up with a concept that has been transformed from the previous concept that was shared at land's original creation which was focused around a rollercoaster themed Quinjet where guests were in the middle of an Avengers battle.
This new attraction focuses strongly on the multiverse which allows guests to see "all the Avengers against all the foes from every universe." Plus guests will get to meet a new villain called King Thanos. This is a brand new version of Thanos created just for the attraction! This is Thanos that won in this multiverse, the Avengers are not too happy about this and you as a guest have to help them!
This information was all shared at the 2022 D23 Expo.
View this post on Instagram
NEW Attraction Coming to Avengers Campus – E-Ticket?
During the Disney Legends ceremony this morning at the D23 Expo, Disney CEO Bob Chapek announced that a third new attraction is coming to Avengers Campus at Disney California Adventure.
He did share that the attraction will take the land "deeper into the multiverse". Avengers Campus will be expanded – the "heart of the new multiverse area will be a sensational new attraction, guests will be able to battle alongside superheroes from anywhere".
PLEASE join our FREE Mickey Visit newsletter above so you don't miss any breaking news like this and to receive details on the new attraction when we receive them on Sunday.
This attraction will likely take the place of the currently empty building where the Quinjet sits.
Disney California Adventure's Marvel-Themed Avengers Campus
Avengers Campus is a six acre land in Disney California Adventure themed to your favorite Marvel Super Heroes (you'll never hear Disney refer to Avengers Campus as "Marvel themed" though – read our section at the bottom of the article for the explanation). The land is situated between Cars Land and Hollywood Land. 
The main draws of the land are the WEB Slingers: A Spider-Man Adventure attraction, the food at Pym Test Kitchen Featuring Impossible, the "Guardians of the Galaxy – Mission: Breakout!" attraction and the character experiences throughout the land.
There are also hidden Marvel easter eggs and secrets throughout the land. As the author of "Disneyland Secrets: A Grand Tour of Disneyland's Hidden Details", learning about these hidden Marvel easter eggs and Disneyland history in the land was a highlight for me. More on this in a moment!
Click below to watch a trailer of the new land to get a good feeling of what it is like to visit Avengers Campus:
Planning Your Visit to Avengers Campus at Disneyland
Now that I've given you an overview of what is included in the new Avengers Campus, here's what you need to know to have a great experience at the new land in Disney California Adventure.
WEB Slingers: A Spider-Man Adventure in Avengers Campus at Disneyland
WEB Slingers: A Spider-Man Adventure is a next generation interactive attraction where you compete with and against your vehicle to collect Spider-Bots with your "Web Slinger" that have escaped into the attraction.
This first Spider-Man attraction at a Disney Park is housed in the Worldwide Engineering Brigade (AKA- "WEB"). During the "open house at WEB" guests are enlisted by Peter Parker, played by Tom Holland, to help him collect the Spider-Bots after they escape. An experiment goes terribly wrong leading to a fun adventure where you are the key to stopping the multiplying Spider-Bots. 
The attraction functions in a similar style to Toy Story Midway Mania with vehicles moving between differently themed scenes. Each scene is themed to a different Avengers Campus location – the Pym Test Kitchen, Avengers Headquarters launch area, and "Guardians of the Galaxy – Mission: Breakout!".
The Imagineers outfitted the WEB Slinger vehicles with next level technology to allow guests to experience slinging webs. Onboard, infrared cameras analyze the actions of guests 60 times per second, tracking eye position, shoulders, elbows and wrists. The vehicle measures when guests move their arms and maps out the geometry of their web sling, rendering a 3D web in the interactive gameplay.
During the Avengers Campus preview I was able to enjoy the attraction a number of times. The Disney team put together this highlight reel for me to share capturing some of my experience. You may have to watch an ad, but it is a pretty fun video on the ride!
I also got the chance to ask some of the Walt Disney Imagineers that were in attendance their advice for beating your friends on the new attraction. Though they encouraged focusing on working together because the entire vehicle receives both an individual and joint score, I was able to get a couple of tips on secret targets on the Spider-Man attraction.
Here are their top tips to get a high score on WEB Slingers at Disneyland:
Points are awarded based on the color of Spider-Bot that you hit. The gold bots are the most rare and the most valuable. Look for these spiders throughout the ride experience.

Don't stop moving your hands and shooting webs. Just as is recommended in the tips for getting a high score on Buzz Lightyear Astro Blasters, continuing to shoot is the most important way to increase your score. The attraction is split up into a number of different scenes so you can rest between them.

Aim for buttons and levers to release new secret targets. One example we were alerted to is a lever on a tank in the Pym Labs scene that releases a high value target at the top of the tank.
We'll share more tips and secret Spider-Man targets as we discover them.
Guardians of the Galaxy: Mission- BREAKOUT!
The Guardians of the Galaxy re-theming of Tower of Terror was all part of the plan to blend that area of Hollywood Land into this new Marvel themed land. You can definitely expect this popular attraction to stay and keep its Guardians of the Galaxy theme.
If you look closely at the concept art at the top of this post, you can see the attraction in the background giving you an idea of how the former bugs land now will connect to Hollywood Land to create this Marvel themed land.
Avengers Campus: Atmosphere & Easter Eggs
The backstory of the land is that Tony Stark's father, Howard Stark previously owned the property and used it for Stark Industries. Once Tony inherited the property he converted the area into the Avengers Campus. You'll see layers of history throughout the land. For instance you'll notice older "Star Motors" style murals painted on buildings and early days SHIELD logos. The more modern Avengers technology and WEB Slingers buildings are all built on top of these "historic" Stark Industries details.
Coincidentally land that Avengers Campus is built on was also marked a spot of great power long ago. The Vishanti build powerful Sanctums on these great spots. This is the area in the land where you'll find the time bending Doctor Strange interacting with guests in a new show.
There is also a fun optical illusion for photos here.
The Sanctum at Avengers Campus
Doctor Strange will most often be found in The Sanctum which will be one of the most beautiful locations in Avengers Campus. These overgrown ruins are the perfect spot for guests to encounter Doctor Strange and learn his secrets of the mystic arts.
Doctor Strange will use powerful spells to bring The Sanctum to life, and you'll want to return to the area after dark, when it will glow even more vividly with majestic colors and lights and its mystic energy will seem even more vibrant.
As you can see above, it's breathtaking at night!
The Sanctum is a place where "rumors of unexplained events and energies have emanated from this remote location. Here, you'll learn mysterious secrets from Doctor Strange and discover ancient, magical artifacts." Pictured above is the Orb of Cagliostro which is known to be especially active at night when it flows with magical energy.
The main entrance to the land is located adjacent to the Worldwide Engineering Brigade-also known- as WEB- and also features a back entrance outside of Guardians of the Galaxy- Mission: BREAKOUT. Pictured above is described as a "curious substance" in front of the attraction. The story goes that Taneleer Tivan (the Collector) placed his fortress against the edge of Avengers Campus which warped the ground and caused a cosmic disruption to ooze from the ground below.
Colorful graffiti murals created by young recruits are placed around the land.
Here you see a callback to Tony Stark's father's company: Stark Motors which Tony transformed into the Worldwide Engineering Brigade.
And of course, the focal point of the land: Avengers Headquarters with the Quinjet parked on top.
Look around the land for little Easter eggs like these Spider-Bots caught in webs!
Avengers Campus Entertainment and Character Interactions
Guests will also be able to encounter their favorite heroes at Avengers Campus including Spider-Man, Black Widow, Ant-Man and The Wasp, Doctor Strange, the Guardians of the Galaxy, heroes from Wakanda and Ashard, Thor, Loki and Iron Man. New characters from recent films will also be present like the Eternals and Shang-Chi! 
The characters in the land are not constrained to specific meet and greet areas and instead roam the land providing a heroic atmosphere. The character interaction is similar to the style of Star Wars: Galaxy's Edge with characters weaving through the crowds and interacting with guests.
Avengers Campus Stunt Shows
On the Avengers Headquarters building, there are stunt acts throughout the day. You might see Black Panther, Black Widow or Captain America face off against a dangerous foe like Taskmaster (villain from the Black Widow movie). When stunt shows aren't taking place, you can also see various Marvel characters waving at guests below. 
You can see an example of one of these stunt shows below:
The stunt shows happen frequently throughout the day so you will likely see one if you spend some time in the land. We found that sitting across at Pym's Test Kitchen gave us a great view so we could eat while we watched the various stunt shows take place.
Some of the characters you can find atop Avengers Headquarters include:
Iron Man
Black Panther
Captain Marvel
Black Widow
Thor
Doctor Strange
Ant-Man
The Wasp
Guardians of the Galaxy
Warriors of Wakanda: The Disciplines of the Dora Milaje
In front of Avengers Headquarters guests can train with the loyal bodyguards from Black Panther, the Dora Milaje, to learn what it is like being an elite royal guard. The training is led by Okoye and happens periodically throughout the morning and afternoon. Check the Disneyland app for the current times for your visit. 
Dr. Strange: Mysteries of the Mystic Arts
Starting afternoon and going through the evening you can watch this Dr. Strange themed show at the Sanctum in Avengers Campus. This is a popular show so I recommend checking the Disneyland app for current time and lining up before it starts. This show will look cooler at night so wait until after sunset for the best experience! Check the Disneyland app for the current times for your visit. 
Spider-Man at Avengers Campus
Above the WEB building, Spider-Man soars through the air at 60-65 feet before dropping down to interact with guests. This incredible stunt figure is one of the highlights of the new land. This is also the same area you can get photo ops with Spider-Man! He will usually meet guests right after the show ends. As you can see below, you can get a pretty good picture with him because of the elevated platform he poses on!
You HAVE TO WATCH THIS VIDEO! It is difficult to explain how cool the Spider-Man stunt figure is.
Check the Disneyland app for the current times for your visit- you can grab a spot before the show before it begins and be ready to jump in line to meet Spider-Man afterwards!
Guardians of the Galaxy: Awesome Dance Off!
You can find this awesome dance party in front of the Guardians of the Galaxy-Mission: BREAKOUT! attraction. The nice thing about this character interaction is it always has consistent times listed on the app and the Disney website since it is considered a show.
Star-Lord, Groot and Gamora lead a dance party and everyone is welcome to join! Kids love this interaction so don't miss it if you have little Marvel fans! Check the Disneyland app for the current times for your visit. 
New Marvel Films and Characters
Over at the Sanctum you can meet various characters throughout the day and watch Dr. Strange's show! You can find all the times for the entertainment and character appearances in the Disneyland app so I recommend checking it throughout the day!
We didn't plan around these special events and just spent the afternoon in the land and managed to see nearly everything. Things are always happening frequently so it's not necessarily something that takes a lot of planning.
Avengers Campus Food
The full menu of unique Marvel themed treats is outlined below, but I wanted to give you my quick take on the food that I enjoyed during my visit in one condensed place during our invited press preview. 
Not So Little Chicken Sandwich from Pym Test Kitchen – This is a filling plate of food! The sandwich is a piece of chicken schnitzel on a tiny bun with a heap of good purple slaw. I really enjoyed the chicken. This requires some strategic eating. Do you use a fork and knife around the edges of the sandwich until it is small enough to pick up on its own? The tater tots and sandwich are a great filling option and a nice addition to California Adventure.

Impossible Spoonful from Pym Test Kitchen – I have never had Impossible meat before, but I really enjoyed this plant based meatball served with pasta. The dish comes in a giant spoon bent to serve as a bowl. Very fun presentation and a nice dish for those who are vegetarian or vegan.

New York's Tastiest Shawarma from Shawarma Palace – This chicken pita wrap is a great lunch addition for the parks. Highly recommend this as a quick counter service restaurant option. Disney has already anticipated high demand for the cart and has added another location in Hollywood Land just outside the exit to the land near Guardians of the Galaxy – Mission: Breakout!

Cosmic Cream Orb from Terran Treats – This is a crispy cream puff with a whipped raspberry cheesecake mousse center. My immediate thought upon tasting this was a of a refreshing cheesecake treat. 

Pingo Doce – This is a Hulk inspired drink that is exclusive to Avengers Campus! The sweet drink has a lemon-lime flavor with a vanilla kick! I am not a soda drinker, but enjoyed sampling the beverage. The drink is in the Coke Freestyle machine so you should be able to just try a sip if you purchase any soda.
Here is the FULL food guide to all the treats you can find at Avengers Campus including souvenirs like Iron Man's infinity gauntlet!
Pym Test Kitchen Featuring Impossible
The main eatery announced is the Pym Test Kitchen Featuring Impossible! Just like Ant-Man and The Wasp use "Pym Particles" to grow and shrink anything, Pym Technologies grow and shrink food at the restaurant.
The Pym Test Kitchen dining location will have a ceiling "quantum tunnel" which below you can watch a conveyer belt of pretzels go from regular-size to ginormous. How big is ginormous? According to Disney, these pretzels weight nearly 360 grams!
Breakfast
Calculated Breakfast = E x 2 + (B+P)/T – Eggs Two Ways with smoked bacon, crispy potato bites, and focaccia toast
Impossible Quantum Garden Breakfast – Plant-based folded omelet with Impossible breakfast sausage, crispy potato bites, and focaccia toast
Ever-Expanding Cinna-Pym Toast – Baked Pym particle bread and egg custard with cinnamon-sugar topping, a fried egg, smoked bacon, and maple syrup
Spoonful of Cereal – Bran flakes and raisins garnished with a yogurt-covered pretzel and served with reduced-fat milk and a ripe banana
Nano Eggs-periment 101 – Softly arranged eggs and turkey bacon with toast (for small beings ages 3 through 9)
Cinna-Pym Mini Toast – Warm toasted cinnamon Pym particle bread with turkey bacon and maple syrup (for small beings ages 3 through 9)
Snacks and Sips
Quantum Pretzel – 453.8 grams, Bavarian-style pretzel with sharp cheddar-beer sauce
Atomic Fusion Pretzel – Buffalo-style pretzel loaded with chicken, hot sauce, ranch dressing, blue cheese crumbles, celery, and dill-pickled carrots
Pingo Doce – Refreshing lemon-lime with a vanilla kick! This distinctly green beverage from Avenger lore available exclusively at Avengers Campus.
Proton PB&J Punch – Minute Maid Lemonade with peanut butter and strawberry flavors, PB-infused whipped cream, and PB pretzel spheres
Blue Particle Specials
Pym-ini – Salami, rosemary ham, Provolone, sun-dried tomato spread on toasted focaccia with marinara dipping sauce and arugula salad
Not So Little Chicken Sandwich – Fried chicken breast, teriyaki and red chili sauces, pickled cabbage slaw on brioche with crispy potato bites
PB3 Superb Sandwich – Warm PB&J with banana, candied bacon on Pym particle bread, with micro banana smoothie and crispy potato bites
Caesar Salad + Colossal Crouton – Hearts of romaine, Kalamata olives, pickled onions, Caesar dressing, garlic crouton and Parmesan crisps
Impossible Spoonful – Rigatoni and ditalini pastas, plant-based meat-balls, tomato sauce, dairy-free Parmesan, and micro basil
Choco Smash CANDY Bar – Dark chocolate, peanuts, caramel, nougat, and chocolate brownie
These fun Red Particle Mini-Meals for small beings ages 3 through 9 include a Cuties Mandarin Orange, Dannon Yogurt, and choice of small lowfat milk or small DASANI Water (except Mini Pasta & Impossible Meat-balls).
Teeny Pym-ini – Toasted ham and provolone sandwich with marinara dipping sauce
Subatomic Chicken Sandwich – Crispy breaded chicken breast on a soft roll
PB&J Flavor Lab: Assemble Your Own Experiment – Smooth peanut butter, strawberry jelly, and Pym particle bread
Mini Pasta & Impossible Meat-balls – Rigatoni and ditalini pastas, plant-based meat-balls, tomato sauce and dairy-free Parmesan served with coconut milk yogurt and small DASANI water
Pym Tasting Lab at Avengers Campus
Located right by Pym Test kitchen, guests can find the Pym Tasting Lab which represents Scott Lang aka Ant-Man's pet project and has a focus on adult beverages. Craft beers on tap range from a blood orange hefeweizen to an amber lager, and they're poured via an ingenious reverse draft system where the glass fills from the bottom up. The Pym Tasting Lab will feature four different beer cocktails and snacks such as sweet and savory popped grains, mini pretzels, and salted honey-roasted peanuts.
Pym Tasting Lab (mobile order available)
Honey Buzz – Gin, lemon juice, and honey syrup with a honey straw
X-Periment –Tequila, Minute Maid Lime Juice, mango and habanero syrups with mango popping pearls
Honey Fusion – Gin, Minute Maid Lemonade, honey syrup, IPA, and a honey straw
Molecular Meltdown – Marshmallow milk stout and vanilla ice cream topped with miniature marshmallows
The Regulator –Tequila, Minute Maid Lime Juice, mango and habanero syrup, wheat ale, and mango popping pearls
Particle Fizz –Hard Seltzer with cherry pearls
Draft beer, hard seltzer, and wine
Snack Molecules – Mini pretzels, honey roasted peanuts, and sweet & spicy popped sorghum
Shawarma Palace
Shawarma Palace (mobile order available)
You may recall that after the Battle of New York, the Avengers discovered their new favorite food after checking out Tony Stark's favorite "shawarma joint" just two blocks from the battle zone. Well, the Avengers loved the food so much they invited the Shawarma Palace crew to open a second location at Avengers Campus. This cart, decked out with Avengers memorabilia, is sure to become a must-try spot for Avengers fans!
New York's Tastiest – Chicken shawarma wrap, garlic spread, and coconut yogurt-tahini sauce with pickled vegetables
Impossible Victory Falafel – Plant-based-falafel and cauliflower wrap, garlic spread, hummus and coconut yogurt-tahini sauce with pickled vegetables
They've also added a breakfast Shawarma wrap you can enjoy making Avengers Campus a great place to grab breakfast in California Adventure!
The details on the Shawarma Palace are awesome! Take a look at the zoom in photos for some of the Marvel easter eggs hidden on the cart.
Terran Treats
Remember the unique collection of Taneleer Tivan on display at Guardians of the Galaxy – Mission: BREAKOUT!? Well prepare to find an awesome assortment of intergalactic eats and treats at this food cart called Terran Treats. The Cosmic Cream Orb resembles an Infinity Stone, but it has the flavor of a delectable cream puff filled with raspberry cheesecake mousse.
Terran Treats will also feature a changing variety of colorful Sweet Spiral Rations, which look and taste like what we have come to know and love as a churro.
Near Guardians of the Galaxy – Mission: BREAKOUT!, you'll find another food cart with a couple of unique treats. Curated by Taneleer Tivan, this cart features weird and wonderful galactic concoctions he's conceived to lure guests to his fortress.
Cosmic Cream Orb – Crispy cream puff with whipped raspberry cheesecake mousse
Sweet Spiral Ration – Churro spirals with unique flavors
Novelties
Glowing Pym Particle Capsule and Glowing Pym Particle Disc – Light up your beverage with a red or blue glowing Pym particle capsule or disc
Enlarged Pingo Doce Soda Can – Filled  with Pingo Doce or your favorite Coca-Cola®  beverage
Iron Man Infinity Gauntlet – A great way to hold your favorite Coca-Cola® bottled beverage
Pint-Sized Pints Mini Beer Flight – Oversized ruler flight board with mini beer steinsAvengers Campus Character Meet and Greets
Avengers Campus Merchandise
WEB Suppliers is the store in Avengers Campus located across from the WEB building where you can find all your favorite headwear, drinkware, patches, pins and more.
It's also home to a version of the Spider-Bots that go haywire in WEB SLINGERS: A Spider-Man Adventure- the Spider- Man attraction inside the land. Each Spider-Bot is powered by a remote control and has eight articulated legs that move backward and forward.

Just like our beloved droids in Star Wars: Galaxy's Edge, this Spider-Bots have plenty of accessories that allow guests to customize their Spider-Bot! Guests can choose accessories like backpacks to carry their Spider-Bots and attachments to harness the powers and style of favorite Super Heroes, including Black Panther, Iron Man, Black Widow, and Ant-Man and The Wasp.
Should You Buy a Spider-Bot?
The cost of a Spider-Bot at Avengers Campus is one of the more expensive items at $79.99 per bot. You can also purchase "tactical upgrades" to give your Spider-Bot a new look for $25 each. We originally didn't plan on purchasing one but once we experienced the Spider-Man Web Slingers attraction they became a more tempting purchase!
Was it worth the cost? That depends. If you are a collector, they do look nice on the shelf and have a nice tie in to the land but aren't movie or comic specific. For kids they are only really fun if you purchase two because the idea is that they can battle each other. Purchasing just one won't get you too far when you get home aside from allowing it to walk around the floor and make sounds. If the goal is to purchase them for your kids to enjoy at home then you definitely should get two which greatly increases the cost making it more of a personal decision.
We display ours on a shelf and it's a neat souvenir from the land especially since they're such a big part of the story in the main attraction and are included throughout areas of the land as little Easter eggs for the attraction.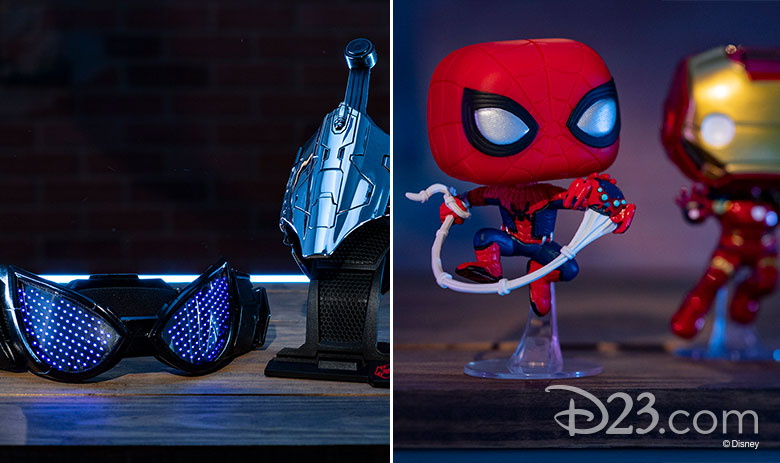 You can also find plenty of awesome Spider-Man themed merchandise such as Spider-Man light goggles with 17 unique expressions, action figures that interact with mini Spider-Bots, Web-shooters with authentic lights and sounds, a kit that enables fans to make their very own webs at home, and Parks-exclusive Funko Pop! vinyl figures of Spider-Man and Iron Man.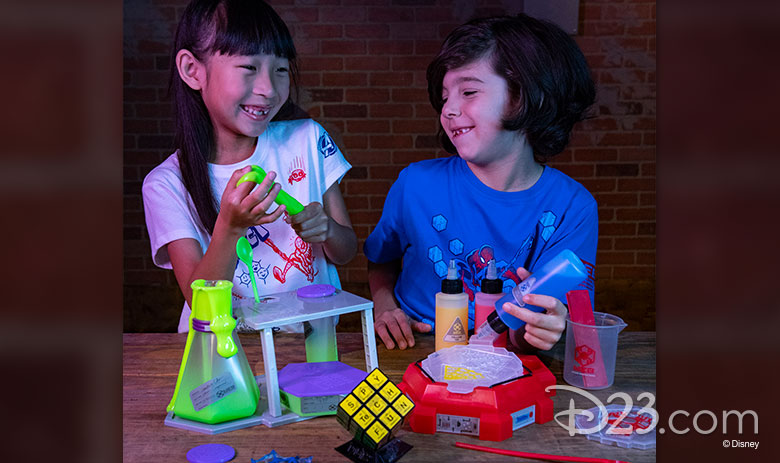 You can also find a variety of STEM (science, technology, engineering, and math)-inspired kits that enables aspiring heroes to create their own "Gamma Goo" and more.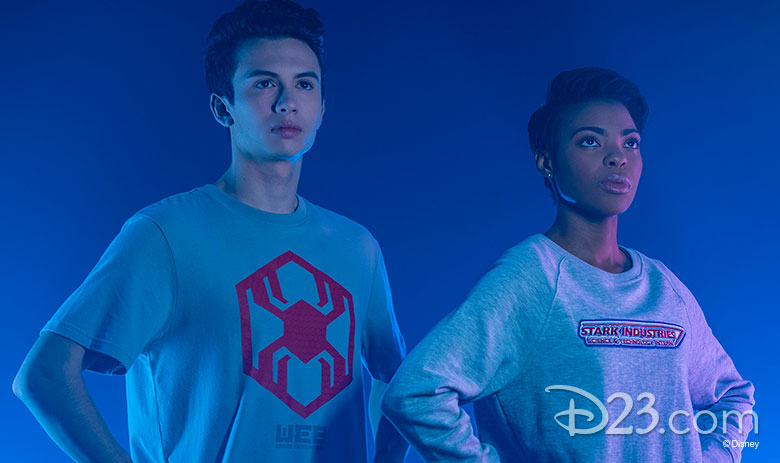 Guests looking to find themed apparel can go to the Campus Supply Pod for official Avengers Campus logo gear such as performance fleece hoodies and tees, hats, drinkware, and more Super Hero supplies.
Why Disney Can't Mention 'Marvel' in their Theme Park Addition
The 'Stark Industries' walls went up once a bugs land closed to make way for the new Marvel themed land. Marvel's original licensing agreement with Universal Studios (prior to Disney's acquisition of Marvel) states that "any theme park west of the Mississippi River is not allowed to use the name "Marvel" in any part of its attractions or the promotion of them." Disney is free to use any Marvel characters west of the Mississippi which is why you still see the characters mentioned in the rides and press announcements. Disney just won't be able to use the word 'Marvel' anywhere in the theme park, its name, and the press releases about the land. This is why recent press releases called it the 'Superhero themed land' rather than mentioning Marvel.
When it comes to theme parks east of the Mississippi, Disney can only license superhero families that aren't already in use by Universal. So because of the presence of Spider-Man, The Hulk, and other characters used at Universal's Islands of Adventure, Disney cannot use any of those characters at Walt Disney World. But Universal isn't using Guardians of the Galaxy for any attractions, this is why Disney can add the new Guardians of the Galaxy themed roller coaster in Epcot.
Plan Your Disneyland Vacation!
Disney is dedicating an amazing amount of time, money and resources to these upcoming lands like the Marvel themed land and Star Wars: Galaxy's Edge.
To get started planning your Disney vacation, you should really subscribe to our FREE Deals newsletter. Here you will receive helpful planning information, exclusive Disney deals, and access to the lowest priced Disney tickets anywhere.
You can find more information on planning your vacation here:
Disclosure: We have used all the products recommended on Mickey Visit. We may receive compensation when you click on links to some products featured.