When does TRON Lightcycle Run open at Walt Disney World? All Details
TRON Lightcycle Run is coming to Tomorrowland in Walt Disney World! This new rollercoaster is a futuristic ride where guests get to hop on their own motorcycle straight out of the TRON film. This coaster also exists in Shanghai Disneyland and has been a hit since its opening and will be a welcome addition to Tomorrowland.
Keep reading for news about a TRON opening date, construction updates, concept art, and more! Plus, our commentary on reports that some plus-size guests may not fit comfortably into the TRON Lightcycle ride vehicles.
Free Disney World Vacation Quote
Our favorite Disney-approved re-seller, Get Away Today, can get you a no obligation Disney World vacation quote for free! In addition to great discount prices, their customer service and easy support is absolutely fantastic. They have an entire department dedicated to making sure every order has a wonderful experience and they are on-call to help you during your vacation if you need them.
Request a FREE Walt Disney World Quote here >
And at no additional charge, you get FREE concierge Walt Disney World services! These services include having Get Away Today's Walt Disney World expert Brooklyn take care of all your reservations and price monitoring for your trip. This really takes all the stress out of planning a Walt Disney World vacation. Rather than waking up at odd hours of the night to book all your reservations, why not let their travel agents take care of it for you- for free!
Will TRON Be Accessible for Plus Size Guests?
During the recent cast member previews for TRON at Walt Disney World there has been rising concerns that TRON may not be "pooh-sized friendly" for all guests. Disney theme parks are some of the most plus size inclusive parks in the business in comparison to the Universal theme parks where ride vehicles are often not built to accommodate pooh size guests. Though Disney places a focus on the being plus-size friendly, the TRON Lightcycle vehicles were first designed with a Chinese audience in mind. The TRON Coaster is a copy of the attraction that first opened at Shanghai Disneyland.
The bikes, known as lightcycles, use a restraint system similar to that of the Pandora Flight of Passage in Animal Kingdom where your legs are locked into place and you are secured from behind. As you can see in the photo above, you get on the ride just like a bicycle and the metal restraint comes into place flat on your back to lock you securely in place.
From recent cast member previews of the new TRON attraction, we have heard reports that some plus size guests struggled with the restraint system and that it didn't allow for a proper 'lock' in place to allow them to ride. To be allowed to ride, you need to be properly restrained in the ride vehicle which the cast member will have to confirm for guest safety.
Despite these reports, I am hopeful that these lightcycles are more accommodating than we might expect. Disney has a long history of inclusivity for guests and strives to ensure most of their guests can experience their attractions. One rule of thumb I might follow is: if you can properly fit on Flight of Passage, you should be okay on TRON. The ride restraints are so similar that it's the best comparison we have right now. We will update this article as we get the chance to experience the new attraction.
The leg rests on the TRON lightcycles do move as you slide your legs in and this bit of a leeway could be an advantage to ensuring a plus size guest could fit on TRON. Take advantage of any wiggleroom the ride vehicle gives you! It's also helpful to remember that everyone carries their weight differently even if they are of the same height and weight. Every body is unique so don't panic if you read reports of someone of a similar size struggling on a ride- it could very well be a different experience for you! One consideration seems to be calf size since the leg restraints lock around your calves so that's where that 'everyone will have a unique experience' bit comes into play. I would also be wary against believing reports you might see on a Twitter that anyone of a certain weight, dress size, etc. won't fit. Like I said, every person carries weight differently!
The good news is that reviews have shared that there is an option to ride in a regular ride vehicle and not on a lightcycle which would allow for pooh sized guests to ride. And for those that do not feel comfortable riding on a bike style roller coaster! Just ask the cast member about this option as you get to the loading platform, there should be a concrete policy in place to navigate how guests will wait for these ride cars by the time TRON officially opens at Walt Disney World.
All guests are also welcome to test whether they are able to fit into the standard vehicle before getting into the queue at at lightcycle bike stationed in front of the attraction.
TRON Disney World Opening Date
TRON now has an official opening date of April 4th at Walt Disney World! That week is already lining up to be an exciting one with the return of Happily Ever After to Magic Kingdom and EPCOT Forever returning to EPCOT.
When guests enter the queue they will be immersed in the TRON experience and feel as if they've become digitized and transported to the Grid for a special Lightcycle race. Guests will be Team Blue racing against the Grid's menacing Programs, Team Orange. The goal is to be the first to race through eight Energy Gates and win!
TRON Lightcycle will be the FASTEST coaster at any Disney theme park in the world! We cannot wait to experience this unique attraction and share details with you.
Before the official opening, cast members will be the first to enter the Grid followed by Annual Passholders and eligible Disney Vacation Club Members.
TRON Virtual Queue
When TRON Lightcycle / Run opens it will use a virtual queue like we have seen for new Guardians of the Galaxy Cosmic Rewind ride virtual queue in EPCOT and Rise of the Resistance when it first opened. A standby queue will not be available when the ride initially opens.
Guests also have the option to purchase an Individual Lightning Lane for the attraction. Ultimately, if you manage to get a virtual queue and you want to ride again you could purchase Lightning Lane to ride twice in the same day.
TRON Lightcycle / Run Locker System
Guests will be required to store their belongings in a new double-sided and digitized locker system before they ride the attraction. Inside the attraction queue, these complimentary lockers pair directly with your MagicBand, MagicBand+, or ticket so you can easily lock and reopen your locker with a quick tap.
Guests without a MagicBand or other ticket media (such as a card) will be provided with a card to assign their locker. All items must be placed either in a locker before you board your Lightcycle, or in a small compartment located on the attraction vehicle that can hold items such as cellphones, glasses or wallets.
TRON Lightcycle/Run Story
Walt Disney World is currently in the testing phase for what will be one of the fastest roller coasters in any Disney park which has begun lighting up the sky in Tomorrowland at Magic Kingdom.
Storyline Revealed
The story for the attraction will begin following the events of "TRON: Legacy" with Sam Flynn (the film's main character) opening new gateways into this digital realm around the world. The first portal was created at Shanghai Disneyland with the original TRON attraction and now the second gateaway will be at Magic Kingdom.
When you enter the attraction's queue, you'll feel as if you've been digitized and entering the Grid for a special Lightcycle race. Guests will join Team Blue for a high speed launch competition against Team Orange. The goal is to be the first to race through eight Energy Gates and win.
Disney Parks TRON Lightcycle Run Ride Testing Updates
Walt Disney World shared the above video on their Instagram of a test run of a launch on the TRON Lightcycle Run attraction! Back in March, they began the process of "push/pull" where they slowly move sections of the ride through the ride track. Now that they finished that process, it allows them to begin the launch tests we will soon see more of!
You can see the video below from March 2022 for a behind-the-scenes look at this "push/pull" test for TRON.
TRON Lightcycle Power Run
Walt Disney World is essentially replicating the existing TRON Lightcycle Power Run attraction that exists in Shanghai Disneyland so if you want an idea of what to expect, you can look to that Disney theme park for a preview.
In Shanghai Disneyland, this is what the TRON canopy looks like in their version of Tomorrowland which is centered around the attraction. The TRON attraction in Walt Disney World will have a similar canopy which is smart since the attraction will be unaffected by the Florida weather.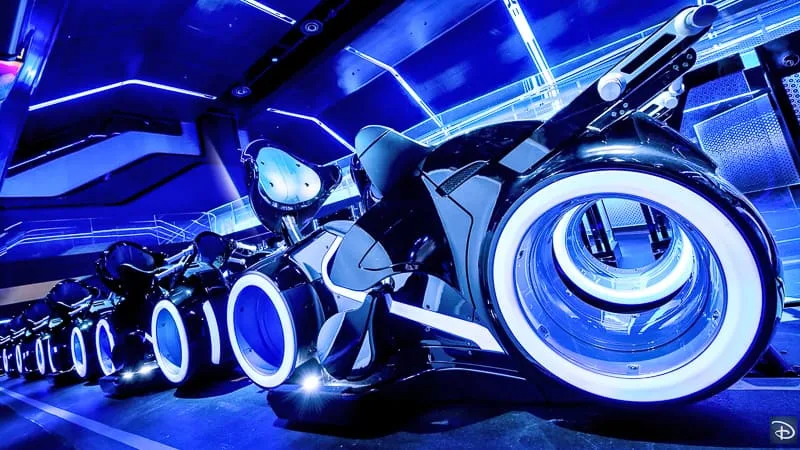 The ride vehicles are similar to how the ones operate for Avatar: Flight of Passage work where guests board a vehicle styled like a bicycle (in this case, a futuristic motorcycle) with a mechanism that presses against your back to lock you into place. The style of the ride vehicle definitely increases the thrill level for this ride! Disney will likely place a ride vehicle out front of the attraction so guests can test out their comfort levels before deciding to ride.
If you want to see a ride point of view of the TRON Lightcycle Power Run in Shanghai Disneyland, you watch the video above. I don't recommend this if you don't want the experience spoiled, though!
Frequently Asked Questions
When will TRON open at Walt Disney World?
TRON now has an official opening date of April 4th at Walt Disney World!
Will Genie+ be available TRON opens?
Disney will follow the same process it is using for Guardians of the Galaxy: Cosmic Rewind. That new opening attraction will be an an Individual Lightning Lane purchase with Genie+ and will use a virtual queue instead of a standby line when it first opens.
Will DAS be available for TRON Lightcycle Run?
Yes, DAS will be available like it is for all rides at Walt Disney World.
Will there be a height requirement?
Yes, likely the height requirement will be similar to what it is in Shanghai Disneyland which is 48 inches.
Does TRON Lightcycle Run go upside down?
No, this attraction will not go upside but it will turn to the side and have drops which may happen in the dark. If you have a fear of heights, you may want to watch the video from the TRON at Shanghai Disneyland to see if it something you're comfortable with.
Plan Your Walt Disney World Vacation!
We hope you enjoyed our Beaches and Cream dining review! Be sure to subscribe to our  deals newsletter for all of the latest information on deals and saving tips to help you save money and experience more! Sign up here. Check out our other Disney World articles:
Disclosure: We have used all the products recommended on Mickey Visit. We may receive compensation when you click on links to some products featured.