TRON Lightcycle Run – NEW Rollercoaster Coming to Walt Disney World
TRON Lightcycle Run is coming to Tomorrowland in Walt Disney World! This new rollercoaster is a futuristic ride where guests get to hop on their own motorcycle straight out of the TRON film. This is coaster also exists in Shanghai Disneyland and has been a hit since its opening and will be a welcome addition to Tomorrowland.
Keep reading for news about a TRON opening date, construction updates, concept art, and more!
TRON Lightcycle/Run Story
Walt Disney World is currently in the testing phase for what will be one of the fastest roller coasters in any Disney park which has begun lighting up the sky in Tomorrowland at Magic Kingdom.
Storyline Revealed
The story for the attraction will begin following the events of "TRON: Legacy" with Sam Flynn (the film's main character) opening new gateways into this digital realm around the world. The first portal was created at Shanghai Disneyland with the original TRON attraction and now the second gateaway will be at Magic Kingdom.
When you enter the attraction's queue, you'll feel as if you've been digitized and entering the Grid for a special Lightcycle race. Guests will join Team Blue for a high speed launch competition against Team Orange. The goal is to be the first to race through eight Energy Gates and win.
TRON Lightcycle Run Opening Date
TRON was originally announced with an opening date in time for Walt Disney World's 50th Anniversary which will run until 2023 but no specific date was released. Construction has really took off at the speed of light (see what I did there?) the past few months and the ride is starting to come together.
There are two possibilities for an opening time range for TRON. Walt Disney World could be aiming for a Fall/Winter 2022 debut since there is still construction and ride testing to be complete. Another option is Spring/Summer 2023 which could be more likely since Guardians of the Galaxy: Cosmic Rewind is opening this year and Disney may want to stagger these ride openings to celebrate the 50th anniversary. Keep in mind this is purely speculation and there has not been an official announcement quite yet.
We took this picture of the TRON construction back in Summer 2021 and the construction has moved very quickly since last summer so we anticipate we'll start getting more news soon! This view was from the PeopleMover in Tomorrowland so you can see how much life TRON will bring to this land. I cannot wait to see it lit up at night!
Free Disney World Vacation Quote
Our favorite Disney-approved re-seller, Get Away Today, can get you a no obligation Disney World vacation quote for free! In addition to great discount prices, their customer service and easy support is absolutely fantastic. They have an entire department dedicated to making sure every order has a wonderful experience and they are on-call to help you during your vacation if you need them.
And at no additional charge, you get FREE concierge Walt Disney World services! These services include having Get Away Today's Walt Disney World expert Brooklyn take care of all your reservations and price monitoring for your trip. This really takes all the stress out of planning a Walt Disney World vacation. Rather than waking up at odd hours of the night to book all your reservations, why not let their travel agents take care of it for you- for free!
You can read my review on my personal experiences booking through Get Away Today and how much you can save here!
Disney Parks TRON Lightcycle Run Ride Testing Updates
Walt Disney World shared the above video on their Instagram of a test run of a launch on the TRON Lightcycle Run attraction! Back in March, they began the process of "push/pull" where they slowly move sections of the ride through the ride track. Now that they finished that process, it allows them to begin the launch tests we will soon see more of!
You can see the video below from March 2022 for a behind-the-scenes look at this "push/pull" test for TRON.
TRON Lightcycle Power Run
Walt Disney World is essentially replicating the existing TRON Lightcycle Power Run attraction that exists in Shanghai Disneyland so if you want an idea of what to expect, you can look to that Disney theme park for a preview.
In Shanghai Disneyland, this is what the TRON canopy looks like in their version of Tomorrowland which is centered around the attraction. The TRON attraction in Walt Disney World will have a similar canopy which is smart since the attraction will be unaffected by the Florida weather.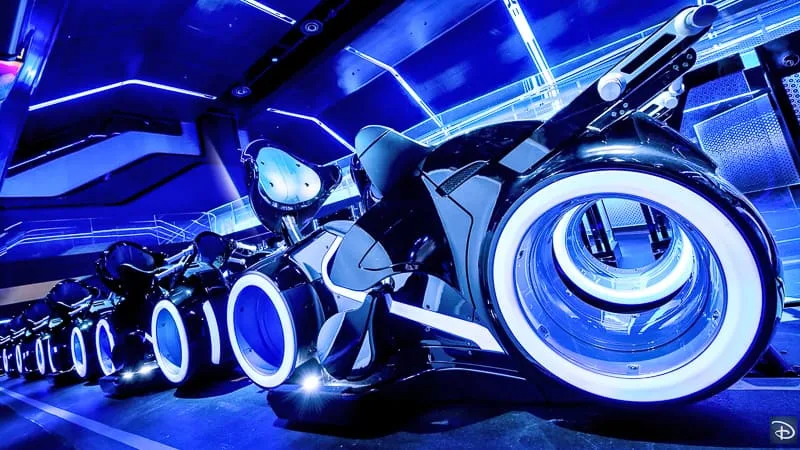 The ride vehicles are similar to how the ones operate for Avatar: Flight of Passage work where guests board a vehicle styled like a bicycle (in this case, a futuristic motorcycle) with a mechanism that presses against your back to lock you into place. The style of the ride vehicle definitely increases the thrill level for this ride! Disney will likely place a ride vehicle out front of the attraction so guests can test out their comfort levels before deciding to ride.
If you want to see a ride point of view of the TRON Lightcycle Power Run in Shanghai Disneyland, you watch the video above. I don't recommend this if you don't want the experience spoiled, though!
Frequently Asked Questions
When will TRON open at Walt Disney World?
Disney has only said the ride will open in time for Walt Disney World's 50th Anniversary so that could be mean later in 2022 or 2023. No official date quite yet.
Will Genie+ be available TRON opens?
It is likely that Disney will follow the same process it is using for Guardians of the Galaxy: Cosmic Rewind. That new opening attraction will be an an Individual Lightning Lane purchase with Genie+ and will use a virtual queue instead of a standby line when it first opens.
Will DAS be available for TRON Lightcycle Run?
Yes, DAS will be available like it is for all rides at Walt Disney World.
Will there be a height requirement?
Yes, likely the height requirement will be similar to what it is in Shanghai Disneyland which is 48 inches.
Does TRON Lightcycle Run go upside down?
No, this attraction will not go upside but it will turn to the side and have drops which may happen in the dark. If you have a fear of heights, you may want to watch the video from the TRON at Shanghai Disneyland to see if it something you're comfortable with.
Plan Your Walt Disney World Vacation!
We hope you enjoyed our Beaches and Cream dining review! Be sure to subscribe to our  deals newsletter for all of the latest information on deals and saving tips to help you save money and experience more! Sign up here. Check out our other Disney World articles:
Disclosure: We have used all the products recommended on Mickey Visit. We may receive compensation when you click on links to some products featured.