Disney100 Celebration at Disneyland DATES and Info: New World of Color, Fireworks, Magic Happens Parade
Disney100 Celebration is the celebration of the 100th anniversary of the Disney company and will be celebrated at the Disneyland Resort!
Disney just announced the kickoff date for the celebration. Scroll down for all the recent announcements. This platinum 100th anniversary will be celebrated all year long.
Keep reading for more information on brand new nighttime spectaculars, parades and more!
Disney100 Disneyland Celebration Kickoff Dates
Disney has announced that the Disney100 celebration will kickoff at Disneyland on January 27, 2023. This is the year long celebration of the 100th anniversary of The Walt Disney Company.
Excitingly, Disney has shared that the new Mickey and Minnie's Runaway Railway will also debut at Disneyland on January 27th as part of the beginning of the celebration. This is big news as we weren't expecting the attraction to open until later in the Spring. The remainder of the rest of reimagined Toontown will open later in the Spring.
The two new nighttime spectaculars, "Wondrous Journeys" and "World of Color – One", will also be debuting on January 27th. See details on both these shows below.
The Magic Happens parade will be returning later in the Spring.
Today Disney also shared a first look at the decorations coming to Sleeping Beauty Castle at Disneyland for the celebration including the addition of two water fountains on either side of the moat, a wishing star added to the tower above the castle plus the three Good Fairies hanging platinum banners.
The below story will continue to be updated throughout the day. Read all details on the new shows previously shared below and a look at the new merchandise.
Disneyland Cast Members will be among the first to celebrate the Disney100 Celebration with special #DisneyCastLife opportunities. I believe it is very important that Disney always prioritize taking care of their Cast Members who truly make the magic.
With this BREAKING NEWS announcement, now is the time to be booking your trip and locking in park reservations, hotels, and tickets.
Discount Disneyland Tickets
Our favorite Disney-approved re-seller, Get Away Today,offers the best Disneyland discount tickets around. In addition to great discount prices, their customer service and easy support is absolutely fantastic. They have an entire department dedicated to making sure every order has a wonderful experience and they are on-call to help you during your vacation if you need them.
Get your discount Disneyland tickets here through our exclusive link!
Buying tickets from Get Away Today is easy and convenient since all their tickets are sent electronically. You can take their vouchers and head straight to the gate without needing to wait in any ticket booth lines. They also offer layaway plans so you can pay off your vacation over time.
You can read our editor's review on her personal experiences booking through Get Away Today and how much you can save here!
Disney100 Special Merchandise First Look
Disney shared a first look at two merchandise items featuring the Platinum look of the new Disney Parks merchandise coming for Disney100.
See the popcorn bucket above and the spirit jersey below.
Disney100 Celebration
We are LIVE from D23 Expo at the Disney Parks panel sharing nonstop updates for new experiences, rethemes and more coming to Disneyland, Walt Disney World, Disney Cruise Line and Disney's International Parks! You can follow along for all our D23 Expo live updates on our main page which covers everything that has been shared so far!
The Disney100 Anniversary Celebration will kick off in late January 2023 and will take place throughout the entire year!
Disneyland will receive new platinum-infused decor, likely similar in theme to the newly revealed at D23 Expo platinum Micky ears below, plus new sparkling looks for Mickey & Minnie Mouse.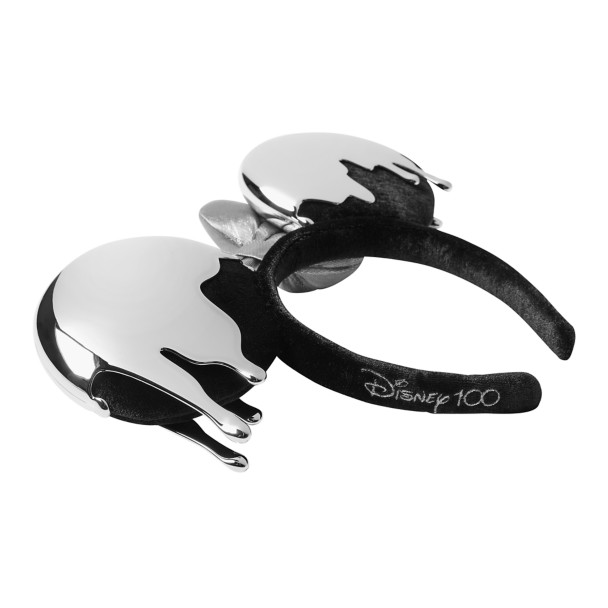 You can also expect, like any Disney celebration, a plethora of Disney100 themed treats, merchandise and more.
World of Color- One
World of Color-One is a brand new World of Color themed nighttime spectacular coming to California Adventure just for the Disney100 Celebration.
It will tell the story of how a single action, like a drop of water, can create a ripple which transforms into waves of change. The show also features a new original song called "Start a Wave."
Wondrous Journeys
Wondrous Journeys is the brand new fireworks spectacular created just for the Disney100 Celebration! The show promises to "ignite the wonder in all of us".
This fireworks show will include nods to all 60 Walt Disney Animation Studios films to date. The show will feature start of the art projection effects that touch on a journey filled with "artistry, music, storytelling and heart."
Like other recent fireworks shows, the show will be projections only on some nights (likely during the week) and have fireworks on other nights.
Magic Happens Parade Returns
Plus, returning in Spring 2023 the awaited return of Magic Happens parade will return!
This brand new parade only completed a two week run in March 2020 before the COVID-19 pandemic resulted in an extended park closure and the parade has not returned since. We are so excited to see this wonderful parade return and its theme fits nicely with the celebration of Disney's 100 years!
Plan Your Disneyland Vacation
Subscribe to our free deals newsletter to receive helpful planning information, exclusive Disney deals, and access to the lowest priced Disney tickets anywhere. You can also find more information on planning your vacation here:
Disclosure: We have used all the products recommended on Mickey Visit. We may receive compensation when you click on links to some products featured.