Top Ten Yummy Vegetarian Options You Can Find at Disneyland
When it comes to traveling as a vegetarian or a vegan, your options can be severely limited. One thing I have always loved about the Disneyland Resort is how accommodating they are when it comes to making everyone with any dietary restriction feel welcome. There are also plenty of vegetarian and vegan delicacies to enjoy when visiting Disneyland and here are my top ten favorites based on my own personal experience dining at Disneyland as a vegetarian!
Discount Disneyland Tickets
Our favorite Disney-approved re-seller, Get Away Today,offers the best Disneyland discount tickets around. In addition to great discount prices, their customer service and easy support is absolutely fantastic. They have an entire department dedicated to making sure every order has a wonderful experience and they are on-call to help you during your vacation if you need them.
Book your discount tickets NOW >
Buying tickets from Get Away Today is easy and convenient since all their tickets are sent electronically. You can take their vouchers and head straight to the gate without needing to wait in any ticket booth lines. They also offer layaway plans so you can pay off your vacation over time.
You can read my review on my personal experiences booking through Get Away Today and how much you can save here!
1. Three-Cheese Monte Cristo at Cafe Orleans
Blue Bayou has also been known to accommodate vegetarians by substituting cheese from their Monte Cristo sandwich as well! But if you want a guarantee, for a cheaper price, then stop by Cafe Orleans to try the Three-Cheese Monte Cristo. I've had it just recently on our last visit and it was delicious. You can find Cafe Orleans in New Orleans Square in Disneyland.
2. Chef's Vegan Burger at Carnation Cafe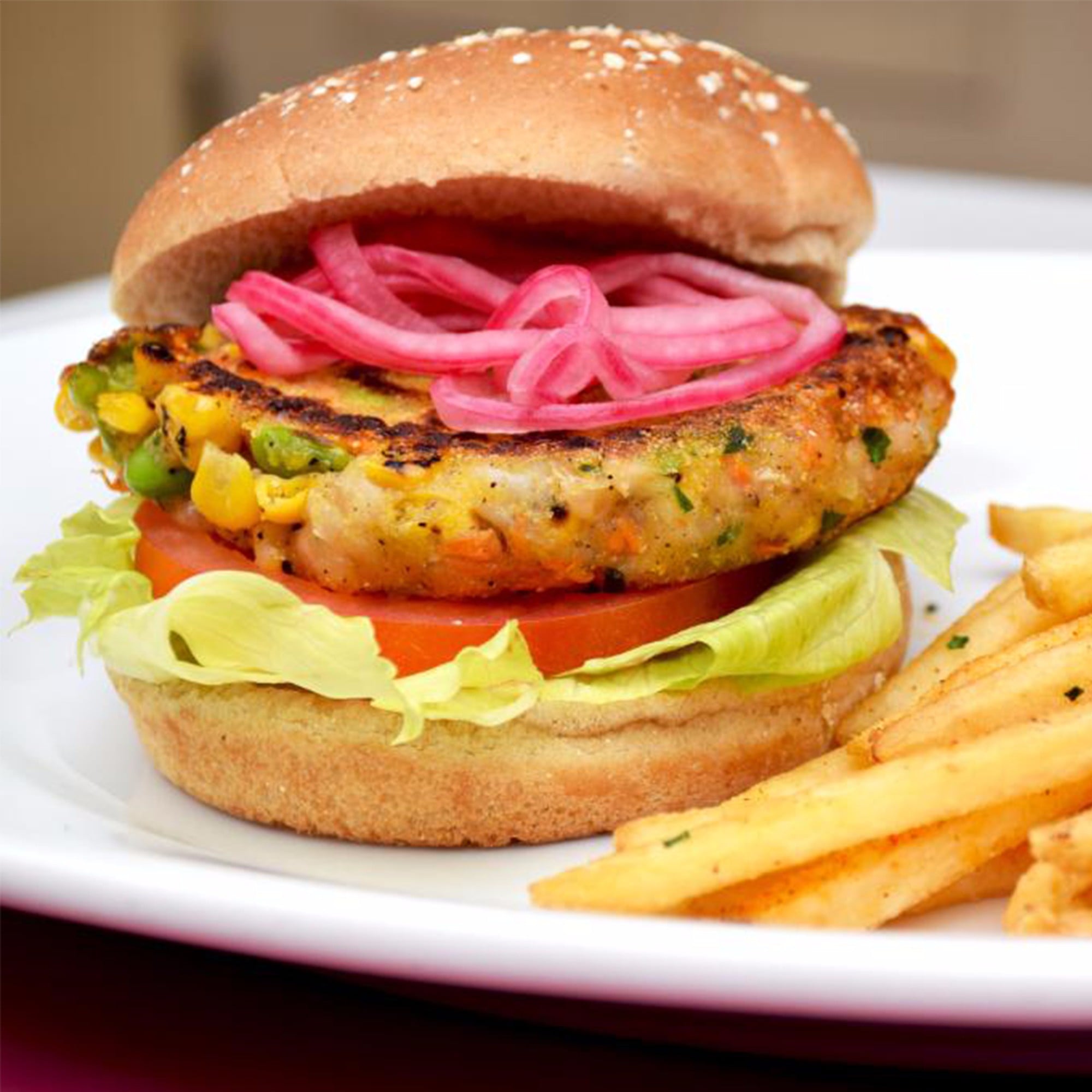 This is by far one of my favorite vegan burgers I've ever had. I've had it several times during our visits to Disneyland and it remains one of my favorites! For vegetarians, you can add cheese if you like but without it- it is totally vegan! You can find Carnation Cafe on Main Street in Disneyland.
3. Dole Whip from Tiki Juice Bar
The famous Dole Whip is a favorite for many park guests! And the best news? It's vegan so everyone can enjoy it! Pro tip: use mobile ordering to pick up your Dole Whip to skip the line. You can find the Tiki Juice Bar in Adventureland in Disneyland.
4. Vegetarian Pasta at Blue Bayou
I get this every time we enjoy the Blue Bayou Dining Package for Fantasmic! and it's always fantastic. I just mark on my dining reservation that I have dietary restrictions and the chef comes out and asks me what I would like. I am a picky eater so I just ask for pasta with cheese- it's basic but delicious! You can add as many veggies as you like too depending on your preference. You can find the Blue Bayou in New Orleans Square in Disneyland.
5. Breakfast Buffet at the Plaza Inn
One of my favorite character dining experiences is Minnie and Friends at the Plaza Inn. You get to see the largest variety of characters out of all the dining meals and the ambiance can't be beat. The breakfast buffets that Disney puts out are always vegetarian and vegan friendly with plenty of options for everyone. You can find the Plaza Inn on Main Street in Disneyland.
6. Pixar Pier Frosty Parfait from Adorable Snowman Frosted Treats
This option over at California Adventure has become a guest favorite from the instant it opened. Be sure to go early in the day to avoid a line. Nothing says vacation like dessert for breakfast! And it's vegan too! You can find the Adorable Snowman Frosted Treats right after the entrance to Pixar Pier.
7. Potato Skins at Lamplight Lounge
This is one of my favorite things to eat in California Adventure- it was just that good. The Lamplight Lounge has been extremely popular since it's opening so make sure to book your reservation in advance. I definitely recommend the Potato Skins for vegetarians and carnivores alike! You can find the Lamplight Lounge to the right after the entrance to Pixar Pier.
8. Vegan Chile Relleno at Paradise Garden Grill
This dish even includes vegan sour cream making it a dish for vegans and vegetarians alike! There are plenty of vegetarian options at the Paradise Garden Grill if you remove the meat from many of the dishes- same could be said with any of the Italian options around the parks. You can find Paradise Garden Grill in Paradise Gardens Park in California Adventure.
9. Chili Cone Queso with Vegetarian Chili from Cozy Cone Motel
Oh.My.Goodness. Word can't describe how much I loved this item! We had it on our visit during the holiday season and it was perfect for a chilly night. Just ask for vegetarian chili and voila! Vegetarian option for all vegetarians to enjoy. It was delicious. If you want it vegan, ask for no cheese! I have heard that the cone has egg in it so you'll have to get it without the cone if you want to try the chili. Find this delicious item at the Cozy Cone Motel in Cars Land in California Adventure.
10. Churros and Pretzels with Cheese from the Snack Carts
Sadly, there are no tofu corndogs (yet, ahem Disney) for us vegetarians to enjoy at the snack carts but there are plenty of other options. My two favorites? Churros and Mickey Mouse pretzels! My son and I are both vegetarians and I love that we have these options scattered across both parks if we need a snack. It's good to know where the quick vegetarian options are along with the restaurants!
Plan Your Disneyland Vacation!
Let us help you plan your vacation! Subscribe to our
free deals newsletter
! You will receive helpful planning information, exclusive Disney deals, and access to the lowest priced Disney tickets anywhere. You can find more information on planning your vacation here:
Disclosure: We have used all the products recommended on Mickey Visit. We may receive compensation when you click on links to some products featured.