Saving Money at Universal Studios Hollywood: 10 Tips to Maximize Your Time and Budget
Families often decide to opt for a day at Universal Studios Hollywood during their Disneyland vacation because the proximity of the theme parks. This is a great way to add an extra fun day to your vacation and one we highly recommend. Universal Studios Hollywood is a great place to spend a day especially if you have any Harry Potter fans in your midst. Our top ten tips to saving money at Universal Studios Hollywood will help make this extra day fit in your budget!
Discount Universal Studios Hollywood Tickets
Our favorite Disney-approved re-seller, Get Away Today,offers the best Universal Studios Hollywood discount tickets around. In addition to great discount prices, their customer service and easy support is absolutely fantastic. They have an entire department dedicated to making sure every order has a wonderful experience and they are on-call to help you during your vacation if you need them.
Buying tickets from Get Away Today is easy and convenient since all their tickets are sent electronically. You can take their vouchers and head straight to the gate without needing to wait in any ticket booth lines. They also offer layaway plans so you can pay off your vacation over time.
You can read my review on my personal experiences booking through Get Away Today and how much you can save here!
Save BIG on Universal Tickets>>
Once you've made the decision to add a day to Universal Studios Hollywood your next step is to start planning. Our full guide here will help you figure out your itinerary. But how about saving money? Considering you're adding a day onto your Disneyland vacation, saving money is likely a top priority for you at this point. With that in mind, here are our top ten tips for maximizing your time and budget at Universal Studios Hollywood!
1. Buy Discount Universal Studios Hollywood Tickets
The first step to saving money at Universal Studios Hollywood is to make sure you get the best discounts possible for your tickets! Our guide to discount tickets at Universal Studios Hollywood lays out all the possible discount options available so you can get the best deal for your day. In addition to securing discounts through our guide and recommended travel partner, here are a few other ways you can try to save money on your Universal Studios Hollywood tickets:
travel during the off season- you will often see more discounts on Universal Studios Hollywood tickets (and Disneyland tickets!) during the off season. The off season for theme parks is typically from January-May when you can secure the most discounts.
travel on a weekday- transportation may be less and you will also find that hotels/flights/etc. are often a better deal on the weekdays. Keep in mind though the traffic may be worse so it's definitely a trade off.
Regardless of how you save, there are plenty of affordable ticket saving discount available for a day at Universal Studios Hollywood. This is the essential first step towards saving money at Universal Studios Hollywood.
2. Arrange for Affordable Transportation
If you are spending a day at Universal Studios as a day off from your Disneyland trip, it makes much more sense to just arrange for transportation to and from the theme park. Sometimes people will coordinate the trip so that it matches up nicely with their air travel. For example, if you're flying out of LAX it might make sense to visit Universal on your last day and switch hotels so you're closer to the airport.
Usually the most feasible option is to arrange transportation for the day to and from Universal Studios Hollywood. This is an area that makes sense to plan so you can save money on your trip. Here are some of the most popular means of transportation to the theme park from Anaheim:
Rent a Car- renting a car is one of the most affordable options especially if you have a larger group. Keep in mind to factor parking in at Universal Studios with general parking averaging $25 a day. Time is also money- renting a car can be time consuming and if you're unfamiliar with the drive it can easily turn into a stressful experience. But if you have an experienced driver ready to take on the challenge, it can be a great choice.
Take a Shuttle- there are a few different shuttle options to get from Anaheim to Universal Studios Hollywood. Our travel partner, Get Away Today, offers discount tickets from their shuttle of choice Karmel Shuttle. This will likely get more expensive if you have a large family so something to keep in mind.
Use Uber/Lyft- Uber and Lyft can be a great option if you have a large group since it doesn't charge per person. Keep in mind though that the average cost of a trip may go up depending on traffic as the meter will still keep going even if you're at a standstill. Since the traffic down to LA can be notoriously bad, this is something to bear in mind. You can get a discount code for Uber for first time users on our transportation page here.
Take a Tour Bus- this is the way that I've always preferred to travel to Universal Studios from Anaheim because I love the convenience of being able to stretch out on a luxury bus and not have to worry about anything. But I also have a small family so cost isn't as much of an issue as these pay per person options. My favorite local tour bus company is the Anaheim Tour Company and they offer transportation to Universal Studios Hollywood for around $44 per person. They will pick you up and drop you off from the entrance of your hotel which is a great convenience.
When it comes to saving money at Universal Studios Hollywood, deciding on your transportation depends on a few factors- the size of your group, willingness to pay more for comfort, and ages of your children. California requires carseats/boosters for kids under the age of eight so that applies to any non-shuttle/bus option.
3. Plan Your Meals Accordingly
First decide if you're going to spend the whole day and evening at Universal Studios Hollywood. If you think you want to head back to Anaheim after closing (usually around 7PM) then you should be able to get by with a large lunch later in the day and snacks so you don't have to purchase two big meals. Of course, for some folks the food is half the reason to visit these area theme parks so this could also be a splurge option. But if you're looking to save money at Universal Studios, cutting costs on food is a great place to save.
We usually like to have a big breakfast at the hotel so we arrive with a full stomach. This makes much more sense anyways because the morning hours is when the lines are shortest. We might grab a snack to get us through and plan on having a large lunch in the afternoon. My favorite restaurant is the Three Broomsticks and not just because I'm a huge Harry Potter fan! The food there is wholesome and hearty so I always leave feeling extremely full for the day. Give me piles of mashed potatoes for days, please.
You can go online and look at the menus for all the Universal Studios restaurants to help you decide in advance which ones are most cost effective. I have found that going in with a plan helps me spend less money and prevent impulse buying.
4. Pack Snacks and Essentials for the Day
While it is nearly impossible to resist buying some things on impulse, there's no reason to be stuck paying for overpriced sunscreen because you didn't bring any with you. Just like a day at Disneyland, make sure you pack all the essentials you will need in the park to avoid having to buy any overpriced necessities on a whim.
This also goes for snacks too! While there are plenty of great snacks in Universal Studios Hollywood, guests may balk at the price. One chocolate frog for $8.95? That cost is going to add up real quick and won't help your plan of saving money at Universal Studios Hollywood. Make sure you pack easy things in your bag like trail mix, crackers, or power bars to get you through the day in between your restaurant splurges. Plus it's always a smart idea to have snacks on hand anyways for when you're waiting in line, especially if you have kids.
Having snacks is also an essential for the trip down and back! Nothing kills time in the car like eating!
5. Split Your Dessert
There are some desserts big enough to share which helps with saving money at Universal Studios Hollywood. Universal Studios Hollywood has you covered with Lard Lard Donuts in Springfield (homage to the Simpsons tv show!)- there is definitely enough donut here to share with a few people. Enough said!
6. Buy Some Souvenirs in Advance
If you or your kids are Potter fans, just know this: the Wizarding World of Harry Potter is going to make you want to buy everything you see. I mean, everything!
The biggest purchase you can make in this area is the entire Hogwarts uniform and this is the one you (and your kids) will want the most. One step for Potterheads saving money at Universal Studios Hollywood is to purchase this online in advance- we used a secondhand Halloween costume on our last visit and honestly, my son's Gryffindor robes didn't look any different than the $100 and up ones we saw in the stores. Know yourself- and your kids- and come prepared.
7. Avoid Buying the Express Pass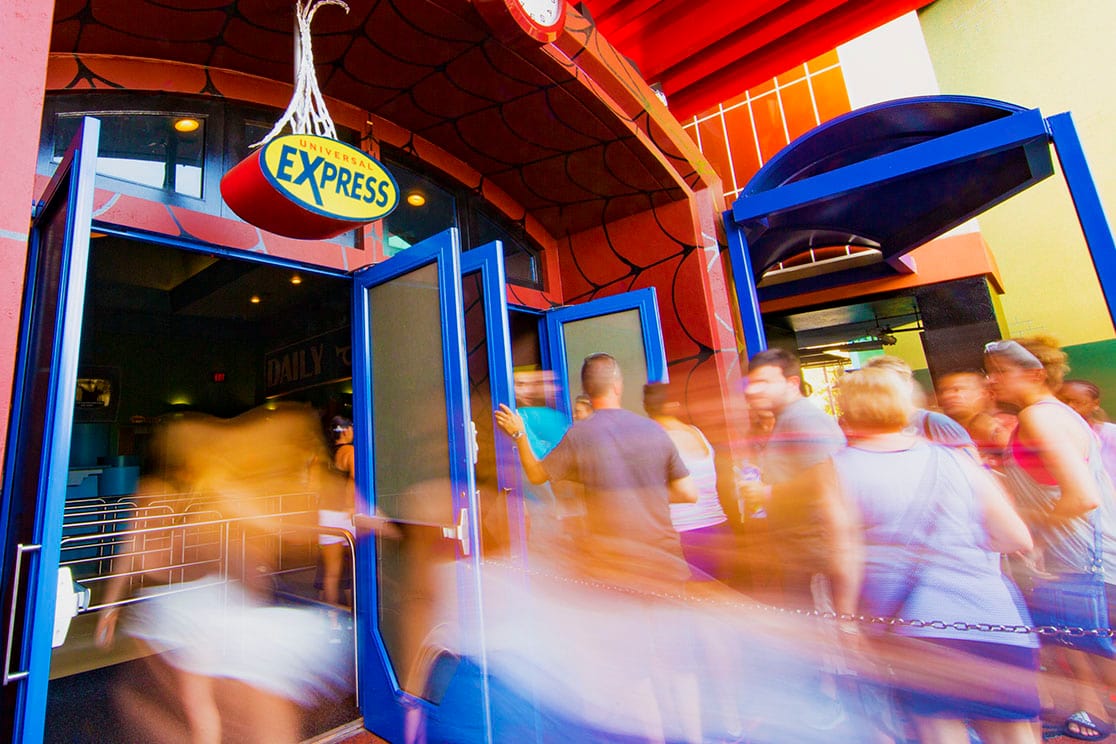 The Universal Express Pass is Universal Studios' version of FastPass- essentially it allows you access to a shorter line rather than making you wait in the longer line that all guests use. The Express Pass can come in handy on really busy days of the year and save time spent in line making it an appealing option for guests.
However, unlike FastPass at Disneyland, the Universal Express Pass is not free and can get pretty costly depending on the time of year you visit. The average price per ticket ranges from $74-$153 depending on the day you pick for your visit. More popular days of the year will make this pass more expensive- like weekends, holidays, and summer dates. And this is just the price to add on to your regular one day ticket. If you use our discount travel partner for tickets you can get your tickets for as low as $102 for adults. So add that Express Pass on to that price and you can see how the cost can add up quickly.
If saving money at Universal Studios Hollywood is important to you, skipping the Express Pass is a good way to do it. You can easily have a good day at Universal Studios with minimal waiting in line if you arrive early with a plan in place. Our guide to Universal Studios Hollywood here shows you the order to tackle the most popular rides in the morning leaving your afternoons for exploring the park. And remember, Express Pass only gives you one time access to the shorter line per attraction. To upgrade to the Unlimited Express Pass, you can average about $30 per ticket in addition to the other costs for Express Pass.
If you know you can't arrive early, then the Express Pass might be worth it but it will be a costly addition. If you do decide to purchase the Express Pass, you can save $10 by purchasing it online in advance.
Either way, if you skip the Express Pass that is one great way to begin saving money at Universal Studios Hollywood.
8. Skip the Carnival and Arcade Games
In both the Super Silly Fun Land (the Despicable Me themed area) and Springfield (the Simpsons themed area) you will find plenty of carnival style and arcade games for kids and adults to enjoy.
These games can easily become a money pit if you're not careful so it you're opting for a plan of saving money at Universal Studios Hollywood- it might be best to steer clear of these.
I was able to effectively distract my son away from the games at the Super Silly Fun Land by pointing out the fun rides and play areas instead. There's plenty to do in these areas that it can be easy to steer kids away if you're prepared!
9. Avoid the VIP Parking Pass
If you plan on renting a car or driving yourself to Universal Studios Hollywood, you may be surprised to see how much parking can cost for the day. When you factor in the heat on a summer day, strollers, and a long walk to the park it can be easy to be swayed into purchasing closer parking.
But if you're planning on saving money at Universal Studios Hollywood, opting for general parking for $25 a day is a much wiser option. The parking tiers vary depending on how close you area to the theme park with the closer parking lots ranging from $35-$50 per day.
If you are arriving early, with a good plan in place, you should be able to get better parking in the General Parking lot and save some money before you even enter the theme park.
10. Maximize Your Time as Much as Possible
Time is money as they say and the best course of action to saving money at Universal Studios Hollywood is to maximize your time spent in the theme park!
Arrive early- plan on being at the gates at least 30 minutes before the park opens. You will be able to walk right on to popular rides like the ones offered in the Wizarding World of Harry Potter.
Have a plan- arriving with a set plan in place is a good strategy for making sure you're not wasting time figuring out which ride to head to next. Have a plan so you know your itinerary for the day.
Use the Universal Studios Hollywood app- you can download the app here. The app is a great way to help you organize your day- you can set rides in order for your plan and you can also set alerts for certain rides to get a notification when the wait times drop below 30 minutes.
Go to the lower lot early- if you're really interested in the attractions on the lower lot, head down there in the morning. Usually most people head right to the Despicable Me ride or the Wizarding World of Harry Potter leaving the lower lot wide open. You can ride the attractions down here multiple times in the morning hours with no wait.
Use the afternoon to watch shows- make sure to spend your morning hours riding the attractions and spend your afternoon enjoying the shows and taking a break from the sun.
Universal Studios Hollywood can easily be tackled within one day if you have a set plan in place. Arrive early, know the order of the rides you want to experience, and spend the afternoons watching shows or meeting characters. And don't forget to devote some time to the Wizarding World of Harry Potter- this immersive experience is sure to impress everyone- not just Potterheads.
Plan your Southern California vacation now!
Sign up for our discounts newsletter for updates on Disneyland and the latest Southern California deals to continue saving money at Universal Studios Hollywood. There are exclusive discounts from our travel partners only available to the newsletter subscribers.
Check out our other top guides to planning your Disneyland and Universal Studios Hollywood trips! You'll find tips and tricks on how to save money and experience more.
Disclosure: We have used all the products recommended on Mickey Visit. We may receive compensation when you click on links to some products featured.