Find Some Peace and Quiet at these 9 Places to Relax at Disneyland
The Disneyland Resort is such a vacation destination anymore that it can be difficult not be overwhelmed by the crowds, noise, and general busyness.  As a frequent visitor, I've discovered a few quiet places hidden among the masses where I've been able to take a breather and embrace the magic of Disney.
Save on your stay! Get your Disneyland COMBO Hotel + Ticket Discounts You and your family can save big when you book your Disneyland tickets and hotel through our recommended travel sponsor (they have worked with Disney for 28 years). We negotiated the lowest prices for tickets and hotels so you don't have to worry. Book now >
#1 Quiet Place: Main Street Opera House
The Disneyland Story Presenting Great Moments with Mr. Lincoln is a two-fold show which begins with a condensed version of how Disneyland came to be and is hosted by Donald Duck and Steve Martin (who worked at Disneyland in his younger days).  You can rest while enjoying the presentation then venture around the room to take in small-scale models of several Disneyland Park attractions, and of artifacts attributing to President Lincoln.  This is the transition to the Great Moments with Mr. Lincoln presentation which is an informative narrative about our 16th president.  Usually, a scattering of guests attends each show so you'll have some much-needed rest and an engaging presentation.
#2 Quiet Place: Main Street Cinema
Farther along on Main Street is the Main Street Cinema which is a great location to take a break especially if you have little guests with you.  Several of Mickey Mouse's early black and white cartoons continuously play and there is plenty of room to stand, or sit on the floor and watch the animation.
#3 Quiet Place: Mint Julep Bar in New Orleans Square

If you arrive at the park in the morning, head straight to the Mint Julep Bar in New Orleans Square. You can order some Mickey beignets with a delicious hot coffee and can easily picture yourself within the streets of New Orleans.  Revel in the sweet smell of the beignets, the hiss of the steam engine as it rolls into the nearby station, and the sight of the majestic Mark Twain steamship sailing along the Rivers of America.  This is a peaceful time to experience Disneyland waking up. Check out our Disneyland Restaurant Reviews + Disneyland Dining Tips to find more delectable eating spots near some of our suggested quiet places!
#4 Quiet Place:  Harbour Galley Seating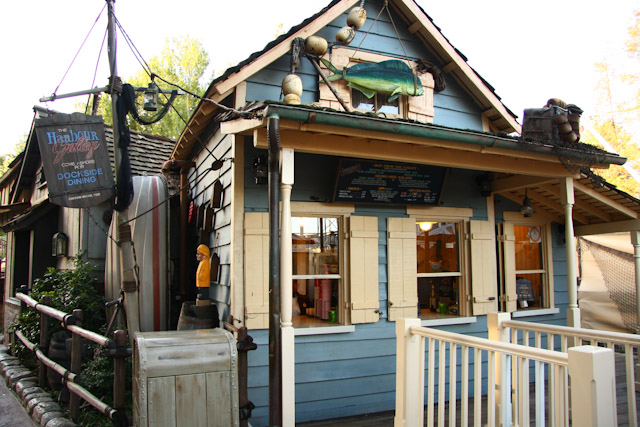 Across the queue entrance of Splash Mountain is Harbour Galley, a lesser-known eating location which serves up a seafood menu.  Behind this establishment is a meandering path with a few spots to sit and embrace the quiet solitude at the edge of Rivers of America.  You might have to wait for a seat but it's worth it.
#5 Quiet Place: Hungry Bear Restaurant
Nearby, Hungry Bear Restaurant also has one of the better resting caves in the park.  There are plenty of seats and the location is perfect for viewing the activities along Rivers of America.  You might also be able to peek through trees to catch the development of Star Wars:  Galaxy's Edge- the much anticipated Star Wars themed land.
#6 Quiet Place: Star Wars-  Galaxy's Edge
Speaking of Star Wars:  Galaxy's Edge, if you wander back around Big Thunder Mountain Railroad toward Fantasyland, you'll find what will be the entrance to the new land.  This preview area is spacious, rarely crowded, and a perfect spot to spend some time imagining a far-off land filled with Wookiees, droids, and heroes.
#6 Quiet Place: Grizzly Peak in Disney California Adventure
If the mountains and trees call you, then Grizzly Peak is your go-to location.  If you've only taken a wet trip down Grizzly River Run and then dashed off to the next fast-pass station, you've missed out on a beautiful overlook.  Next time, hike the short trail behind the attraction queue and you'll see gushing waterfalls and native evergreen trees.  You'll be transported directly to California's Sierra Nevada Mountains.
#7 Quiet Place: Redwood Creek Challenge Trail
Across from Grizzly River Run is Redwood Creek Challenge Trail. Although this location may indicate masses of smaller guests, it really is a pleasant rest stop during your adventure.  Redwood Creek Challenge is a place to recharge your energy while younger visitors expel theirs.  There are plenty of benches to just sit and absorb the view of the idyllic redwoods or listen to the trickling of the small creek.  Or, grab a map and follow the animal tracks dotting the inter-crossing trails.  You choose your own level of activity.
#8 Quiet Place: Cars Land and Flo's V8 Café
Cars Land can be a bit chaotic with families darting in and out with strollers and little guests but if you cruise over to Flo's V8 Cafe you'll find some great comfortable seating. There is a fantastic view of the race course from Radiator Springs Racers.
#9 Quiet Place in Disneyland: Grand Californian Hotel Lobby
Although my focus is mainly on the Disneyland and Disney California Adventure Parks, I do have some honorable mentions. White Water Snacks is open to all guests, not just hotel visitors. It is also located near the hotel entrance/exit into Disney California Adventure. This eatery is a hidden gem I found with my kids when they were younger. It's quiet with plenty of menu options for everyone.
Inside the hotel, the Great Hall Lobby is also a peaceful and welcoming environment. The lobby is filled with comfortable couches that invite you to rest your weary feet. You can even grab a drink from nearby Hearthstone Lounge and relax in front of the larger-than-life fireplace.  It's a perfect end to a Disney-filled day.
Plan your Disneyland Resort vacation now!
Every visit, I seem to find more locations to add to my list of quiet places. Be sure to find your own special peaceful locations the next time you visit Disneyland Resort.  Remember to check out our other guides to help make Disneyland your vacation destination!
More Tips and Info:
You can find more information and advice on planning your Disneyland vacation by subscribing to our Disneyland discounts newsletter and by visiting the other articles available on the website.
Remember to visit https://disneyland.disney.go.com/ for the official park schedule and information on Magic Morning hours.