Rise of the Resistance: Groundbreaking Ride inside Star Wars: Galaxy's Edge
The much anticipated Rise of the Resistance attraction is now open at Walt Disney World and at Disneyland. This acclaimed attraction is the most impressive ride that Disney has ever built. When we got to experience the new Star Wars ride, we were blown away.
Save on your stay! Disneyland COMBO Hotel + Ticket Discounts Save big when you book your Disneyland tickets and hotel through our recommended travel sponsor! Get free breakfast, hotel night stays, and more. We negotiated the lowest prices on tickets and hotels so you don't have to worry. Book now >
Keep checking back for updates as we follow the news closely for both Walt Disney World and Disneyland including when FastPass will be added, tips, and more.
Rise of the Resistance- The New Star Wars: Galaxy's Edge Ride!
The Rise of the Resistance attraction inside Star Wars: Galaxy's Edge is truly the main event of the land it's been well worth the wait. This trackless ride takes place during an epic battle between the First Order and Resistance including massive larger than life sets and audio-animatronics. Guests will board multiple ride vehicles, face enemies, and walk down the halls of a real Star Destroyer as if you are truly a Resistance fighter captured by the First Order. For the first time a Disney ride will move you from experience to experience in different vehicles and different segments to really capture that immersive feel that Star Wars: Galaxy's Edge is aiming to achieve. This ride has been painted as the most ambitious that Disney has ever attempted and it definitely has achieved everything it set out to!
Accessing Rise of the Resistance
Disneyland- Boarding Group Procedure
Disney has confirmed that Disneyland will utilize a virtual queue, the same they've been doing at Disney World, for Rise of the Resistance in Disneyland. Here are the steps you will need to take to access the ride:
Download the Disneyland app and make sure everyone's tickets are already scanned into your app so that way once you enter you can seamlessly sign up for a boarding group.
Arrive at least an hour prior to park opening to have the best chance for accessing a boarding pass in the virtual queue as there are not guarantees.
Once you're scanned into the park, immediately access the Disneyland App and look for the link on the home page labeled "Star Wars: Rise of the Resistance – Access by Boarding Group"and request a boarding group.
You will be given a boarding group number, the larger the number, the later in the day you will ride.
Enable push notifications for the Disneyland app on your phone and when it's time to enter the queue for Rise of the Resistance you will receive a notification instantly. You will then have two hours to access your boarding time.
Keep in mind the various disclaimers Disneyland has offered for the popular new ride such as:
The virtual queue will not be available until published park opening hours which means even if you're let into the park early (which is common on busy days to hold guests on Main Street behind rope access to the lands) you won't be able to access the virtual queue until the park officially opens.
You can also join a boarding group without the use of the app at select locations inside the park at Splash Mountain and Buzz Lightyear. We do not recommend this as you will likely have a lower success of getting a spot in the queue than those utilizing the app.
Signs in the park will display the boarding group status.
Admission into Star Wars: Rise of the Resistance will be subject to capacity, and having an assigned boarding group will not guarantee entrance to the attraction.
There will be no standby line, guests will be required to have a valid boarding group to experience the ride.
Keep in mind that this ride has been extremely popular at Walt Disney World with boarding groups for the day being gone within ten minutes of opening! Be prepared if you want to ride and arrive early to secure your spot.
Here was our experience with the boarding group procedure on opening day: 
We arrived at the park gate at 6:45 am and immediately entered the park. Disneyland opened the gates early to accommodate for the crowds of people waiting to experience Rise of Resistance for the first time. Keep in mind that on opening day for any new addition that the crowds will be larger and then Disneyland will change operating procedures to make sure guests have the best experience.

Main Street stores were open and people milled about waiting for the ropes to drop. So even though the gates were open, guests were held back from the lands by the ropes at the hub. Guests were able to book MaxPass upon entry though which was pretty cool. The only line we saw was at Starbucks!

They opened a little early, again to accommodate the crowds, at 7:45AM. 

We prepped our Disneyland app by linking our tickets to the app and navigating to the Boarding Groups page. 

At 8AM the page refreshed and after clicking the "join group" button a couple times we were in!
We hit confirm and then the boarding number appeared and we were ready for the day. 
Based on what we saw on opening day you have a good chance at getting a boarding group if you arrive early. And if you're following our Disneyland morning strategy, you will be doing that anyways! I'd recommend arriving at least an hour prior to park opening.
Here are some things we've learned today from the experience to help you in the future in securing your boarding group:
By 8:03 AM all boarding groups for the day were gone which wasn't too surprising considering the demand we've seen at Walt Disney World! Time will tell if this holds up but for now we recommend arriving early so you are INSIDE THE PARK by opening time to have a fair chance.
You can leave the park after you've secured your boarding group so you could go back to your hotel to rest or hop over to California Adventure. You will have two hours to make it to the attraction when your group is called.
There were some issues with the app 'refreshing' and some guests reporting having better success by not having the app open until right at 8AM and then when 8AM hit, opening it and clicking on the boarding pass. We recommend having multiple people in your group ready to book from their phones so you have the best chance. Disney will only let you have one boarding group linked to your ticket so whoever gets in first, gets the group in.
You can access kiosks for boarding groups if you don't use the app by Buzz Lightyear and Splash Mountain. However, we don't recommend this option as that will greatly reduce your chances of securing a boarding group.
Guests are reporting that it's about a 30-45 minute wait in line once your boarding group is called but there are many benches in the ride queue to rest on while you wait.
So the takeaway to getting a boarding group for Rise of the Resistance? Arrive early, have your tickets already linked to your Disneyland app, and be ready to click that button when the park officially opens!
Walt Disney World- Boarding Group Procedure
Walt Disney World has been utilizing the Boarding Pass system for guests to access Rise of the Resistance. There has been no standby line available and instead guests must secure a boarding group reservation in order to ride.
Guests can obtain these boarding passes through the My Experience App at Disney World the instant their ticket into the park is scanned. The boarding pass functions as a virtual queue and guests will be called in order of border group to ride the attraction. Guests will be notified through the app when it's time to ride and will have two hours to make their way to the attraction. You can leave Disney's Hollywood Studios and return when your group is called- basically you have to just ensure you get there early enough to get the boarding group then you can go about your time until your turn is called.
Guests that want to utilize Rider Switch and DAS will still have to access this virtual queue option like everyone else so keep that in mind. Once your boarding group has been called and you enter the line the average wait time has been around 30 minutes if the ride doesn't break down.
Be prepared that many guests have been lining up a few hours in advance of park opening and that most days the boarding groups are gone within an hour of the park's official opening time. Due to the popularity of the ride, we expect this trend to continue for awhile. You should aim to arrive by at least 630AM to get a fair shot at riding Rise of the Resistance, if not earlier. Guests are also limited to one boarding group access per day for the ride so if you ride once, then you can't ride again for the rest of the day to give other guests a fair shot at enjoying the attraction.
If the ride breaks down and you do have a boarding group reservation, Disney has been gracious about providing a future reservation for the ride for guests to return and try another day.
Rise of the Resistance Frequently Asked Questions
What will the height requirement be for the ride? 40 inches
Will the ride have FastPass options? Yes, eventually but not at first at either Disneyland or Walt Disney World.
What about riders with disabilities? Guests with disabilities will use the same disability system for this ride at both Disney World and Disneyland. 
How long is the ride? This ride is said to be one of the longest Disney has done with total time around 20 minutes.
How thrilling is the ride? The ride will be similar in thrills as others with similar height requirements like Big Thunder Mountain, Splash Mountain, etc. There is some spinning while in the trackless ride vehicle, although not nearly anything like our favorite teacups, and there's a 23 foot drop at the end when you drop back to Batuu.
Does the ride cause motion sickness? Everyone is different but the reports from people that typically do experience motion sickness on rides like Star Tours have been pretty positive in that this ride didn't cause the same kind of sickness. There is some spinning at various points in the ride, comparable to the spins on Toy Story Midway Mania! to give you an indication of what the motion sensation is like.
Is it worth the hype? The overwhelming response from everyone that has rode it so far has been an universal YES! Disney's goal was to put guests right in the middle of a Star Wars movie and that is exactly what it feels like. Disney uses 360 effects to really make you feel like you're inside a Star Destroyer- everywhere you look is completely immersive. The animatronics are some of the best Imagineers have ever done and you'll be left wondering if it was all real.
Is it scary for children? You know your children best but you can expect nonstop action for 15 minutes including brief moments of spinning, laser blasts, loud noises, and a drop at the end. Just like any ride, some kids will be scared and some will love it! If your kiddo isn't afraid of Space Mountain or Indiana Jones, they should do just fine on this.
The Rise of the Resistance Queue and Storyline-Ride Spoilers Ahead!
Rise of the Resistance Entrance and Queue
The queue for the land, which we have already glimpsed in Star Wars: Galaxy's Edge on the Resistance side of the land, works to immerse guests in the attraction. Rise of the Resistance blends in well with the forested area outside of Black Spire Outpost. Guests will walk down a side path to reach the X-Wing and A-Wing waiting to launch before they see the actual entrance to the attraction. Once guests enter, there will be nothing visible from the 600 trees placed in this area of the land.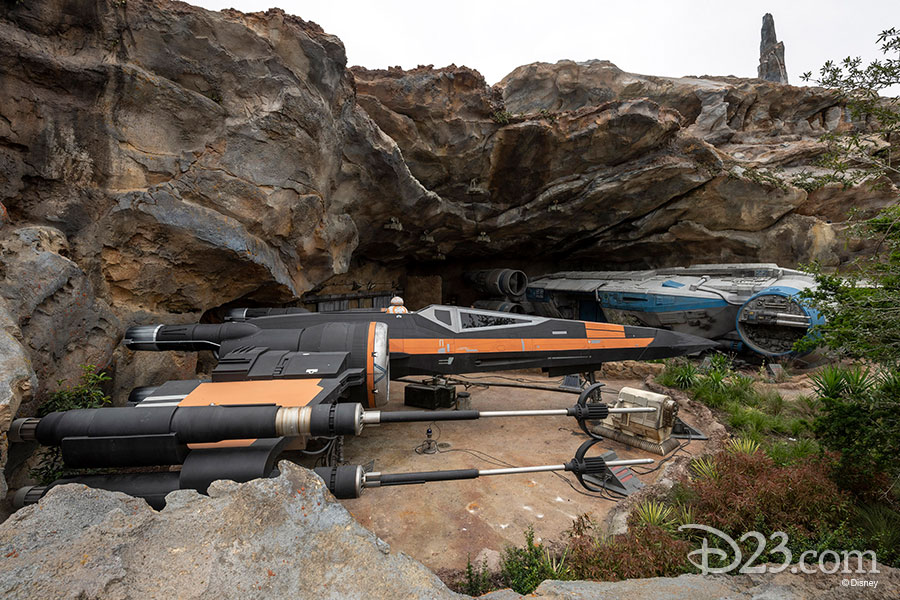 The long indoor queue appears to be carved from stone with laser torches with ancient carvings, indoor stone benches, and high-tech Rebel equipment on display.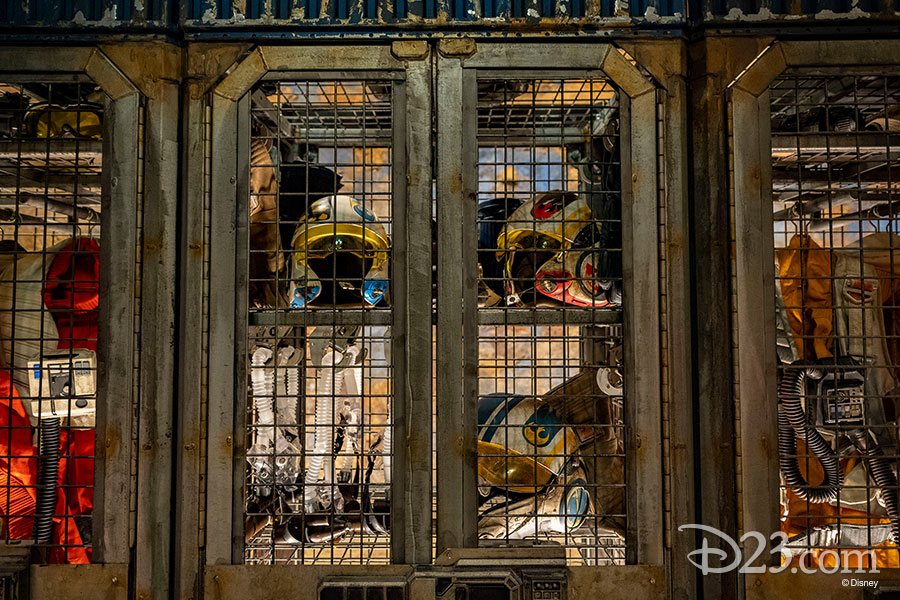 This queue features interactive elements that can be enjoyed with the Play Disney Parks app allowing guests to find holographic star maps. The Play Disney Parks app is a central piece to helping guests feel the reality of being in the interactive village of Black Spire Outpost in Batuu. The app allows guests to translate the language of Aurebesh, a galactic language in the Star Wars universe, and find hidden crates and containers, play in-queue games, message characters, and participate in land specific missions.
Rise of the Resistance Storyline
*Warning: ride spoilers ahead!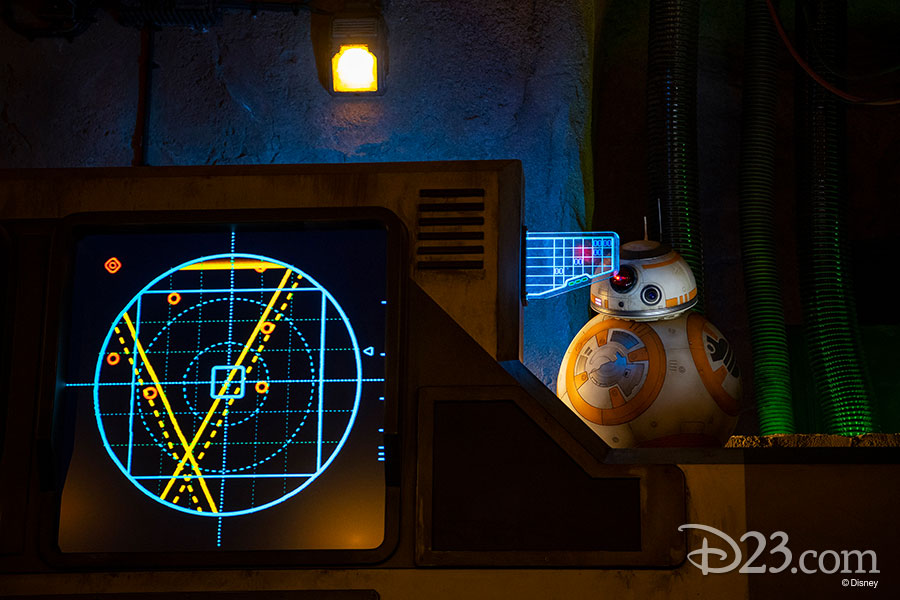 When the ride begins, BB-8 and Rey will ask participants to join a mission to fight the First Order and a door will open to take you outside where you will walk past Poe Dameron's X-Wing. You will then board the first ride vehicle, a ship on a busy flight deck as 50 or so guests board together, piloted by Nien Nunb.
Things will appear to go well from first glance outside the high-tech monitor windows but soon you'll be sucked inside a Star Destroyer. Once you're taken prisoner, you will see a full-sized TIE Fighter on your right and a 100-foot window that looks out into space. You will also be greeted by nearly 50 Stormtroopers standing attention to intimidate your group as you're brought through the vessel towards small detention cells that were modeled after the one Poe Dameron is interrogated in during "The Force Awakens."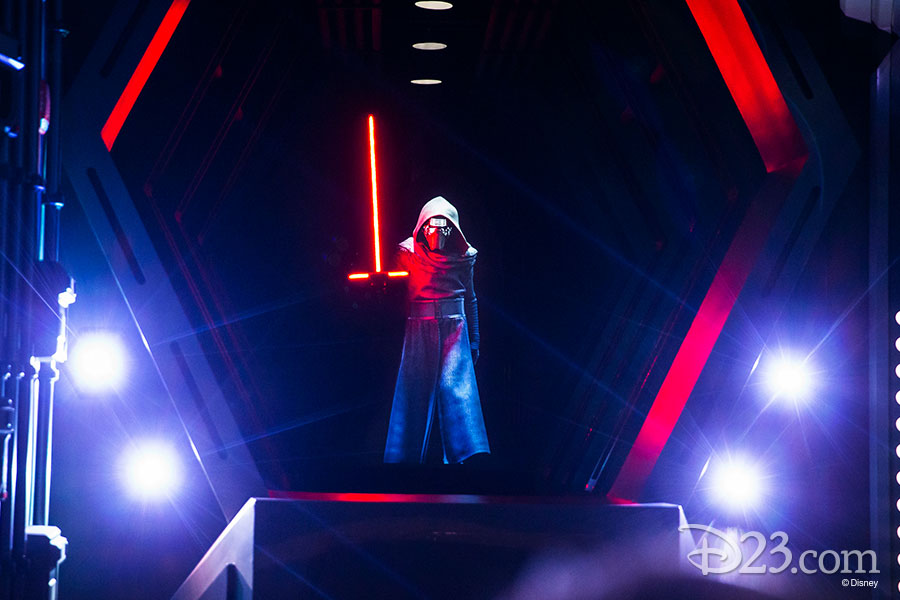 This is where Kylo Ren will make his first of many appearances as you prepare to escape the First Order's grasp. And with all of this action, this is just half of the ride! The ride will continue through a daring escape from the First Order in a trackless ride vehicle that will take you past life size AT-ATs and ending with an escape on a Resistance ship back to Batuu.
Rise of the Resistance Attraction Pictures and Ride Through Video
Now that the ride is officially open we've gotten the best look at some of the pictures from media previews below! Take a look to see how mind blowing this revolutionary ride is:
You can view the full ride through below:
Media Footage for Rise of the Resistance
Disney has done a nice job of building up the hype for the new Rise of the Resistance ride. Below are a few preview clips and videos from the ride that have been released on Freeform, Good Morning America, and the Disney Parks Blog website.
If you missed Star Wars: Galaxy's Edge – Adventure Awaits last night (2 hour special on @FreeformTV) here's what they showed of #RiseoftheResistance!

"We've fully realised laser blasts in mid-air, holograms, full-size AT-ATs…" – Imagineer John Larenapic.twitter.com/Ab81dZN4aI

— CafeFantasia 💫 (@CafeFantasia) September 30, 2019
.@ReeveWill gives us a sneak peek at the new "@starwars: Rise of the Resistance" attraction which will open at @WaltDisneyWorld and @Disneyland during the next few months! LEARN MORE: https://t.co/uS6JM4gwnX pic.twitter.com/O6Zh0Ob7Ro

— Good Morning America (@GMA) September 26, 2019
Disney's TV holiday special shared information about the ride such as:
The queue features holoscreens of scenes from Star Wars
An audio-animatronic BB-8 is featured in the room before guests board the ride
An audio-animatronic Admiral Ackbar sits next to pilot Nien Nunb in the cockpit of the transport shuttle.
The heads of audio-animatronic stormtroopers rotate to watch guests pass through the Star Destroyer hangar bay.
Guests will see an Imperial probe droid in a Star Destroyer hallway similar to the droid seen on Hoth in The Empire Strikes Back.
Video projections of stormtroopers fire blasters rifles at guests from an upper deck in the AT-AT walker scene.
Massive Star Destroyer laser cannons fire into space over the heads of guests.
TIE fighters swarm as battle scenes play out on projection screens during the escape pod segment of the attraction.
You can watch the TV segment below to see all the preview clips:
Here's the full preview of Star Wars: Rise of the Resistance from Disney's Magical Holiday Celebration that aired tonight. #StarWars #RiseoftheResistance #GalaxysEdge #Batuuhttps://t.co/zq02rxihDm pic.twitter.com/xKiLxu5cJb

— Showcase of Wishes (@ShowcaseWishes) November 29, 2019
Plan Your Disneyland Vacation!
Be sure to subscribe to our Disneyland deals newsletter for all of the latest information on deals and saving tips to help you save money and experience more! Sign up here. Also, be sure to join us on our Facebook page for Disneyland planning tips and info. Click HERE.
You can discover more about planning your trip to Disney World from these links: