How to Ride Star Wars: Rise of the Resistance at Disneyland and Disney World
Star Wars: Rise of the Resistance is the acclaimed attraction at both Walt Disney World and Disneyland. This is one of the most impressive rides Disney has ever built and due to it's high demand both parks use a virtual queue with no standby line in place!
Need to score that Rise of the Resistance boarding group? We've accomplished this task with success each time we've tried and we've got the best tips to help you do the same.
Free Disney World Vacation Quote
Our favorite Disney-approved re-seller, Get Away Today, can get you a no obligation Disney World vacation quote for free! In addition to great discount prices, their customer service and easy support is absolutely fantastic. They have an entire department dedicated to making sure every order has a wonderful experience and they are on-call to help you during your vacation if you need them.
And at no additional charge, you get FREE concierge Walt Disney World services! These services include having Get Away Today's Walt Disney World expert Brooklyn take care of all your reservations and price monitoring for your trip. This really takes all the stress out of planning a Walt Disney World vacation. Rather than waking up at odd hours of the night to book all your reservations, why not let their travel agents take care of it for you- for free!
Get A Free Vacation Quote Now!
You can read my review on my personal experiences booking through Get Away Today and how much you can save here!
Rise of the Resistance at Disneyland and Walt Disney World
Riding Rise of the Resistance at both Disneyland and Walt Disney World is now more simple than ever! There is no longer the use of a virtual queue/boarding group system at either park. In order to ride Rise of the Resistance you have two options
standby line
purchase access to the Lightning Lane for $15-20 per person

this purchase is separate from the daily fee for Genie+ as it's a separate attraction purchase
Genie+ is now available at both Disneyland and Walt Disney World with the option to purchase Lightning Lane available for purchase at both parks.
What about riders with disabilities? Guests with DAS, offered at both Walt Disney World and Disneyland, can get a return time for Rise of the Resistance like any other attraction.
Does the ride offer Rider Switch? Yes, you can use Rider Switch for the ride just like other ones. Just see a cast member.
Rise of the Resistance: Height Requirement and Thrill Level
What is the height requirement? 40 inches.
How long is the ride? This ride is one of the longest Disney has done with total time around 20 minutes.
How thrilling is the ride? The ride will be similar in thrills as others with similar height requirements like Big Thunder Mountain, Splash Mountain, etc. There is some spinning while in the trackless ride vehicle, although not nearly anything like our favorite teacups, and there's a 23 foot drop at the end when you drop back to Batuu.
Does the ride cause motion sickness? Everyone is different but the reports from people that typically do experience motion sickness on rides like Star Tours have been pretty positive in that this ride didn't cause the same kind of sickness. There is some spinning at various points in the ride, comparable to the spins on Toy Story Midway Mania!, to give you an indication of what the motion sensation is like.
Is it worth the hype? The overwhelming response from everyone, including us, been an universal YES! Disney's goal was to put guests right in the middle of a Star Wars movie and that is exactly what it feels like. Disney uses 360 effects to really make you feel like you're inside a Star Destroyer- everywhere you look is completely immersive. The animatronics are some of the best Imagineers have ever done and you'll be left wondering if it was all real.
Is it scary for children? You know your children best but you can expect nonstop action for 15 minutes including brief moments of spinning, laser blasts, loud noises, and a drop at the end. Just like any ride, some kids will be scared and some will love it! If your kiddo isn't afraid of Space Mountain or Indiana Jones, they should do just fine on this.
The Rise of the Resistance Queue and Storyline- Ride Spoilers Ahead!
Rise of the Resistance Entrance and Queue
The queue for the land works to immerse guests in the attraction. Rise of the Resistance blends in well with the forested area outside of Black Spire Outpost. Guests walk down a side path to reach the X-Wing and A-Wing waiting to launch before they see the actual entrance to the attraction. Once guests enter, there will be nothing visible from the 600 trees placed in this area of the land.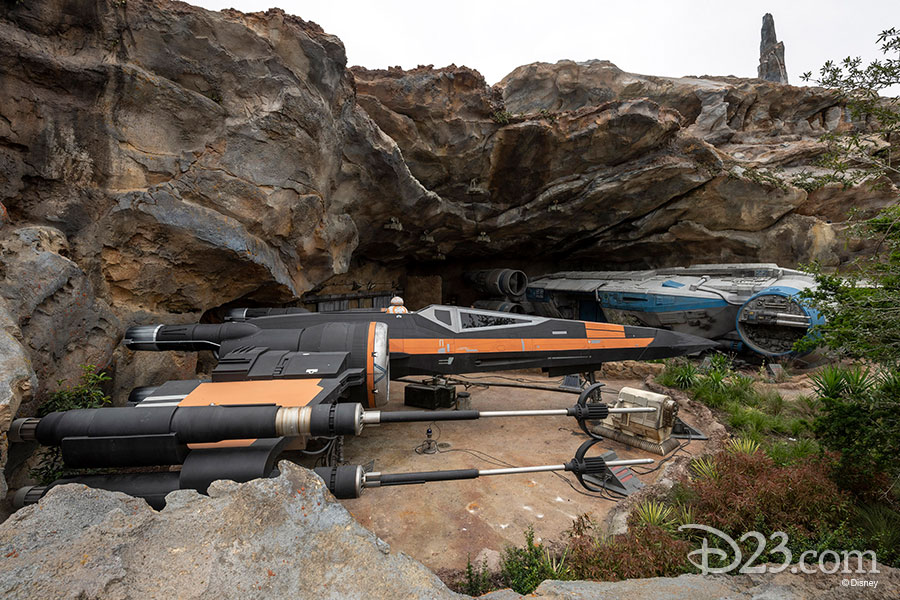 This queue features interactive elements that can be enjoyed with the Play Disney Parks app allowing guests to find holographic star maps. The Play Disney Parks app is a central piece to helping guests feel the reality of being in the interactive village of Black Spire Outpost in Batuu. The app allows guests to translate the language of Aurebesh, a galactic language in the Star Wars universe, and find hidden crates and containers, play in-queue games, message characters, and participate in land specific missions.
Rise of the Resistance Storyline- Spoilers!
*Warning: ride spoilers ahead!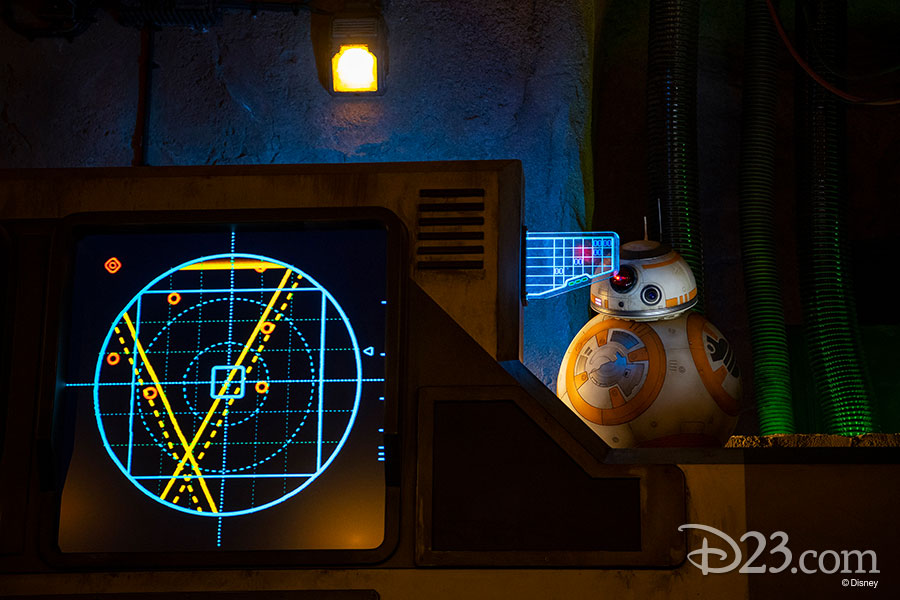 When the ride begins, BB-8 and Rey will ask participants to join a mission to fight the First Order and a door will open to take you outside where you will walk past Poe Dameron's X-Wing. You will then board the first ride vehicle, a ship on a busy flight deck as 50 or so guests board together, piloted by Nien Nunb.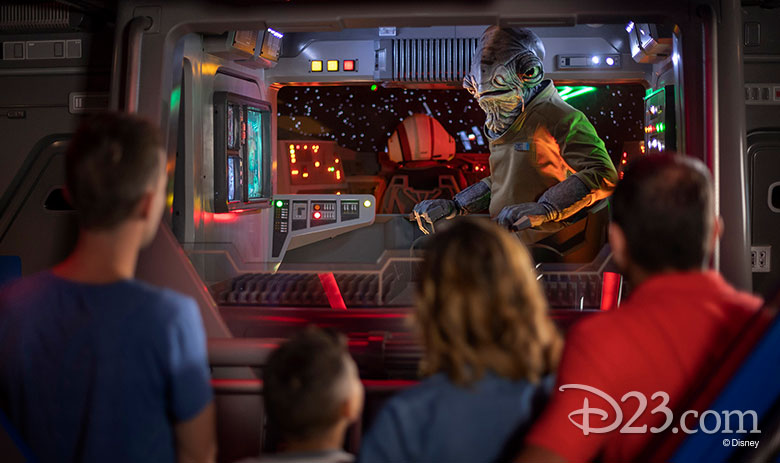 Things will appear to go well from first glance outside the high-tech monitor windows but soon you'll be sucked inside a Star Destroyer.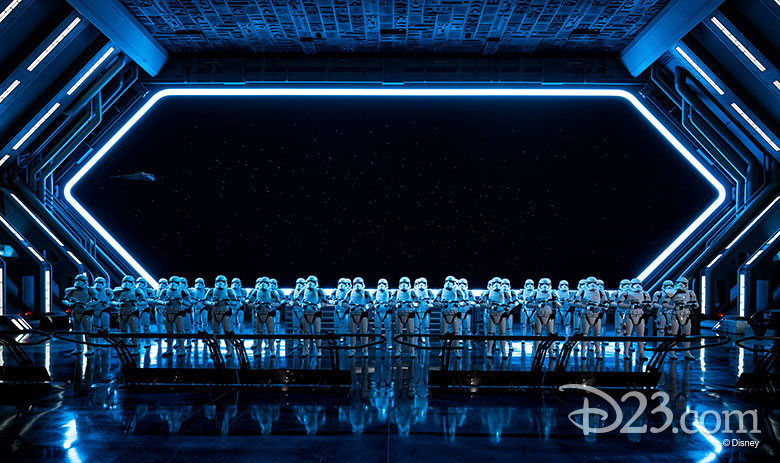 Once you're taken prisoner, you will see a full-sized TIE Fighter on your right and a 100-foot window that looks out into space.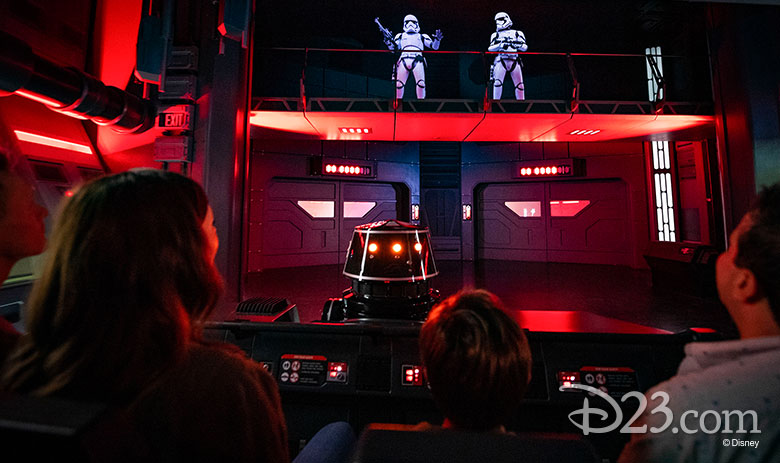 You will also be greeted by nearly 50 Stormtroopers standing attention to intimidate your group as you're brought through the vessel towards small detention cells that were modeled after the one Poe Dameron is interrogated in during "The Force Awakens."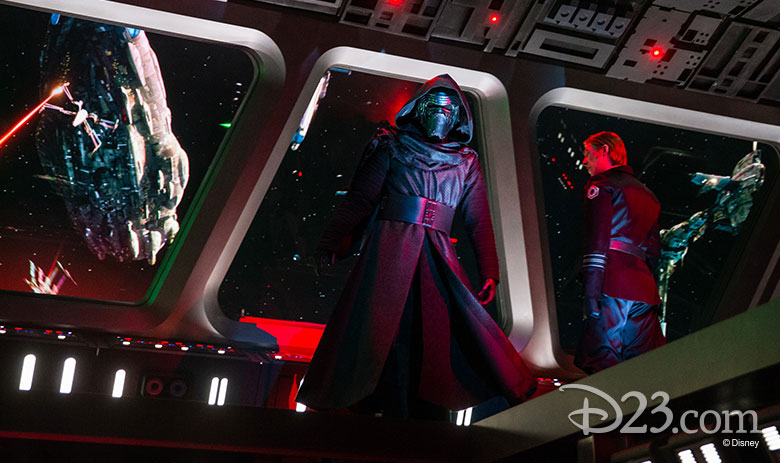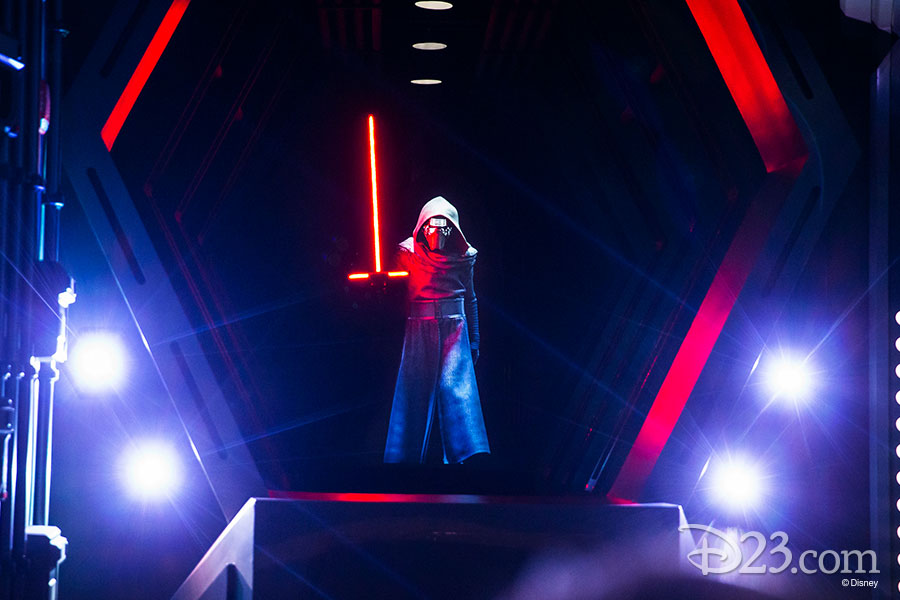 This is where Kylo Ren will make his first of many appearances as you prepare to escape the First Order's grasp. And with all of this action, this is just half of the ride!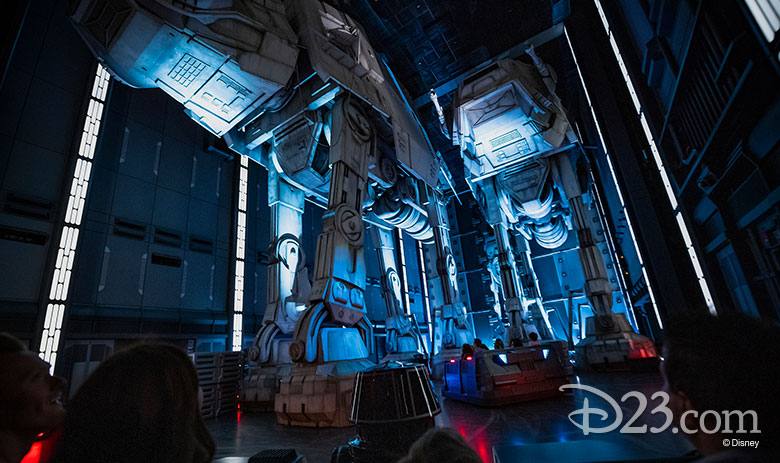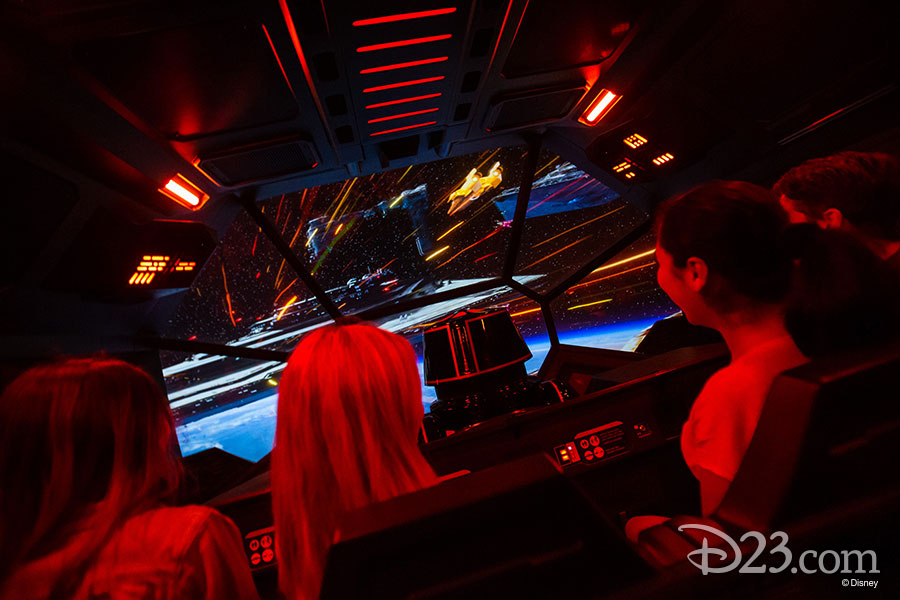 The ride will continue through a daring escape from the First Order in a trackless ride vehicle that will take you past life size AT-ATs and ending with an escape on a Resistance ship back to Batuu.
You can view the full ride through below:
How to Get a Star Wars: Rise of the Resistance Boarding Group for Disneyland
Disneyland no longer uses a virtual queue for Rise of the Resistance but we leave this information here just in case this ever returns in the future!
Disneyland uses a virtual queue for Star Wars: Rise of the Resistance where they create Boarding Groups based on guests signing up in the Disneyland app at specific times twice during the day. Here are the steps you will need to take to access the ride:
The attraction's virtual queue is only accessible via the Disneyland mobile app, and you may only experience the attraction by joining the virtual queue. Distribution times for virtual queue enrollment will be twice daily, one in the morning, and one later in the day.
Here's everything we know so far:
Accessing the Virtual Queue at Disneyland
Guests with a valid ticket and theme park reservation who will start their day at Disneyland park will be able to access the virtual queue system at 7AM. 

Location doesn't matter- you only need a park ticket and theme park reservation for Disneyland.

Guests must have a valid ticket and park reservation and have entered Disneyland or California Adventure before accessing the virtual queue system at 12PM. 

If you started your day at California Adventure you can enter Disneyland starting at 1PM so your return time for the virtual queue wouldn't be until then.
How to Prepare for the Virtual Queue
Download the Disneyland app and make sure everyone's tickets are already scanned into your app so that way once you enter you can seamlessly sign up for a boarding group.
Enable push notifications for the Disneyland app on your phone and when it's time to enter the queue for Rise of the Resistance you will receive a notification instantly. You will then have two hours to access your boarding time.
Star Wars: Rise of the Resistance Boarding Group Strategy

Walt Disney World no longer uses a virtual queue for Rise of the Resistance but we leave this information here just in case this ever returns in the future!
Walt Disney World is using a virtual queue for guests to access the popular Star Wars: Rise of the Resistance attraction.
In an effort to relieve previous morning congestion at Hollywood Studios guests can book their boarding group at 7AM as long as they have a valid Park Pass Reservation for Hollywood Studios that day. You don't need to be scanned into the park to do this and can do it from the comfort of your hotel room.
Guests will still have a chance at 1PM to request to join the virtual queue but they will need to be scanned into the park just as before in order to access the queue.
How to Get A Rise of the Resistance Boarding Pass at Walt Disney World
First, make sure you have the My Disney Experience app. Double check that all your tickets are linked to your app and that you have a valid Park Pass Reservation for Hollywood Studios.
A few minutes before the official time (7AM or 1PM) I would log into my app and click on the 'join' button on the home screen for the "Star Wars: Rise of the Resistance Virtual Queue"- I would do this a few times going back and forth, I found this helped my phone load the page quicker when the time came. I was also worried the app might ask me to log in which would waste me precious seconds. I would log out and log back in, just to be sure.
I waited and exactly when the clock hit 7AM, I clicked on 'join'- this brings you to the main screen where you will click 'join' again and then a screen will show your party- no need to stop to select them, they will be preselected, and then hit join again.
This process should literally take 1-2 seconds- groups go fast, be ready to push those buttons quickly!
Make sure push notifications are turned on for My Disney Experience so you will be alerted if your group is called to return. You'll have up to an hour from the time of the alert to go to the entrance of Star Wars: Rise of the Resistance.
Please note that joining the virtual queue does not guarantee the ability to experience Star Wars: Rise of the Resistance.
Rise of the Resistance Boarding Group Tips
Our experience riding Rise of the Resistance since reopening has taught us a few tricks and taught us what to avoid!
DO NOT pause during the process- your group will be auto selected for you- don't pause to check who's selected. If for some reason someone in your party isn't selected, you can modify this as Guest Services later.

This is the NUMBER ONE reason people don't get a group because they pause on this screen and lose precious seconds.

DO NOT panic. I'm kidding, but we all might panic a bit- it's nerve wracking! If you're nervous, be ready to go a few minutes before the queue opens so you can take some calming breaths.
DO check your internet connection and speed to see if it's better to be on Disney wi-fi or your cellular data.

You can use free websites like speedtest.net to compare which is faster.

DO have multiple people try for a Boarding Group. Have everyone in your group with access to a cell phone be trying at once- it won't interfere with your likelihood of success but instead will increase it.

Usually whoever has the fastest/newest smartphone will be successful. My son's iPod touch was always lagging a second behind my iPhone 11 pro so my phone succeeded each time.

DO practice getting a Boarding Group before your trip! Since the app doesn't check for that theme park reservation until the last confirmation page, you can practice all the other steps until you get to that point. If you get the 'Woops- is everyone in the park?' message, you know you would have been successful if you would have been in the parks.

I did this many times before our trip and I attribute a lot of my success to doing this!

DO what works for you. Some folks wait until right at that 7AM/1PM to push the 'Join button' from the main page while others will go the 'Virtual Queue' page and pull down the screen to constantly refresh it. Either method works fine- go with the one that YOU will be quickest at.

I personally just waited with my thumb hovering over the 'Join' button and pushed it right when the clock on my phone hit 7AM.

DO check the clock on your phone to make sure it's accurate. If you have a seconds watch, use that so you know when to join. Boarding Groups disappear in a manner of 1-2 seconds, literally.
DO check your log in on the Disney app a minute or two before you try for a Boarding Group just to make sure it doesn't prompt you to re-enter your log in information. Seconds matter!
Step by Step: How I Got the Best Boarding Group
All of the ride show areas have been marked with social distancing stickers and cast members are managing the experience to ensure guests remain distanced from other parties. The ride vehicles have recently been equipped with plexiglass barriers so they are able to get more guests on the ride in a day which will only help increase boarding group capacity.
Rise of the Resistance- Plexiglass Added to Ride Vehicles 
To try to maximize the number of boarding groups Disney is able to accommodate while adhering to current health and safety guidelines, they recently added a clear barrier between the two rows of seats on each First Order Fleet Transport vehicle inside the attraction. This enables them to invite more guests to board Star Wars: Rise of the Resistance each day.
Plan Your Disney Vacation!
Be sure to subscribe to our Disneyland deals newsletter for all of the latest information on deals and saving tips to help you save money and experience more! Sign up here. Also, be sure to join us on our Facebook page for Disneyland planning tips and info. Click HERE.
You can discover more about planning your trip to Disney World from these links:
Disclosure: We have used all the products recommended on Mickey Visit. We may receive compensation when you click on links to some products featured.