How to Ride Star Wars: Rise of the Resistance at Disneyland and Disney World
Star Wars: Rise of the Resistance is the acclaimed attraction at both Walt Disney World and Disneyland. This is one of the most impressive rides Disney has ever built. Previously Rise of the Resistance required a virtual queue, but now the attraction offers a standby queue and the option to purchase an individual lightning lane to bypass the line.
The Rise of the Resistance attraction is singular in the Disney Parks. There is no ride experience quite like this one. For both Star Wars fans and normal park guests, this experience will shock you. Rise of the Resistance at Disneyland and Walt Disney World is one of the few attractions I would wait almost an hour for repeatedly.
Rise of the Resistance at Disneyland and Walt Disney World
Riding Rise of the Resistance at both Disneyland and Walt Disney World is now more simple than ever! There is no longer the use of a virtual queue/boarding group system at either park. In order to ride Rise of the Resistance you have two options
standby line
purchase access to the Lightning Lane for $15-25 per person

this purchase is separate from the daily fee for Genie+ as it's a separate attraction purchase
Read all details about purchasing an Individual Lightning Lane at Disneyland here.
Genie+ is now available at both Disneyland and Walt Disney World with the option to purchase Lightning Lane available for purchase at both parks.
What about riders with disabilities? Guests with DAS, offered at both Walt Disney World and Disneyland, can get a return time for Rise of the Resistance like any other attraction.
Does the ride offer Rider Switch? Yes, you can use Rider Switch for the ride just like other ones. Just see a cast member.
Does Rise of the Resistance require a Boarding Group or Virtual Queue?
(Updated January 2023) The Rise of the Resistance attraction no longer requires a virtual queue or boarding group for Disneyland or Walt Disney World. Rise of the Resistance now has an open queue in the style of other attractions and a lightning lane that is offered as an individual purchase.
Rise of the Resistance: Height Requirement and Thrill Level
What is the height requirement? 40 inches.
How long is the ride? This ride is one of the longest Disney has done with total time around 20 minutes.
How thrilling is the ride? The ride will be similar in thrills as others with similar height requirements like Big Thunder Mountain, Splash Mountain, etc. There is some spinning while in the trackless ride vehicle, although not nearly anything like our favorite teacups, and there's a 23 foot drop at the end when you drop back to Batuu.
Does the ride cause motion sickness? Everyone is different but the reports from people that typically do experience motion sickness on rides like Star Tours have been pretty positive in that this ride didn't cause the same kind of sickness. There is some spinning at various points in the ride, comparable to the spins on Toy Story Midway Mania!, to give you an indication of what the motion sensation is like.
Is it worth the hype? The overwhelming response from everyone, including us, been an universal YES! Disney's goal was to put guests right in the middle of a Star Wars movie and that is exactly what it feels like. Disney uses 360 effects to really make you feel like you're inside a Star Destroyer- everywhere you look is completely immersive. The animatronics are some of the best Imagineers have ever done and you'll be left wondering if it was all real.
Is it scary for children? You know your children best but you can expect nonstop action for 15 minutes including brief moments of spinning, laser blasts, loud noises, and a drop at the end. Just like any ride, some kids will be scared and some will love it! If your kiddo isn't afraid of Space Mountain or Indiana Jones, they should do just fine on this.
Free Disney World Vacation Quote
Our favorite Disney-approved re-seller, Get Away Today, can get you a no obligation Disney World vacation quote for free! In addition to great discount prices, their customer service and easy support is absolutely fantastic. They have an entire department dedicated to making sure every order has a wonderful experience and they are on-call to help you during your vacation if you need them.
And at no additional charge, you get FREE concierge Walt Disney World services! These services include having Get Away Today's Walt Disney World expert Brooklyn take care of all your reservations and price monitoring for your trip. This really takes all the stress out of planning a Walt Disney World vacation. Rather than waking up at odd hours of the night to book all your reservations, why not let their travel agents take care of it for you- for free!
Get A Free Vacation Quote Now!
You can read my review on my personal experiences booking through Get Away Today and how much you can save here!
The Rise of the Resistance Queue and Storyline- Ride Spoilers Ahead!
Rise of the Resistance Entrance and Queue
The queue for the land works to immerse guests in the attraction. Rise of the Resistance blends in well with the forested area outside of Black Spire Outpost. Guests walk down a side path to reach the X-Wing and A-Wing waiting to launch before they see the actual entrance to the attraction. Once guests enter, there will be nothing visible from the 600 trees placed in this area of the land.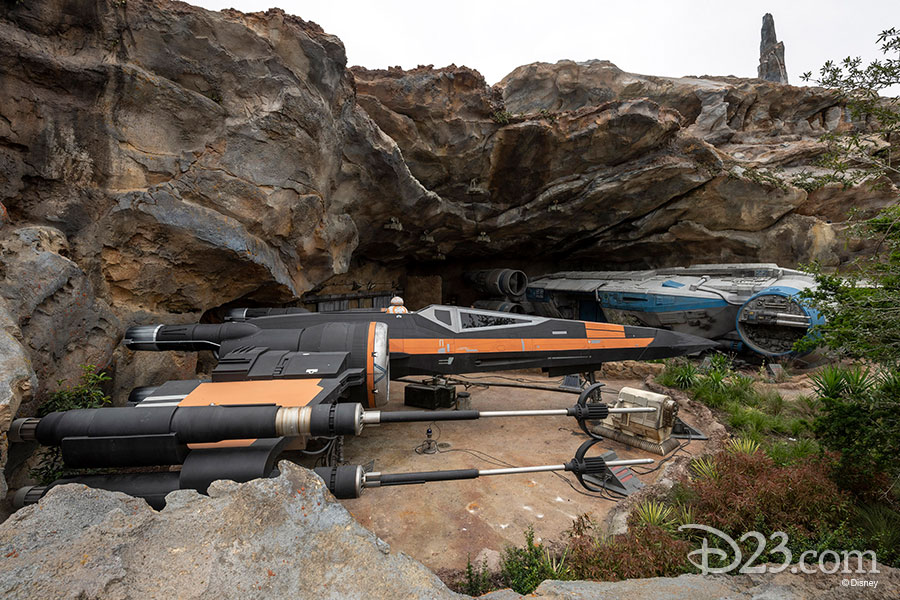 This queue features interactive elements that can be enjoyed with the Play Disney Parks app allowing guests to find holographic star maps. The Play Disney Parks app is a central piece to helping guests feel the reality of being in the interactive village of Black Spire Outpost in Batuu. The app allows guests to translate the language of Aurebesh, a galactic language in the Star Wars universe, and find hidden crates and containers, play in-queue games, message characters, and participate in land specific missions.
Rise of the Resistance Storyline- Spoilers!
*Warning: ride spoilers ahead!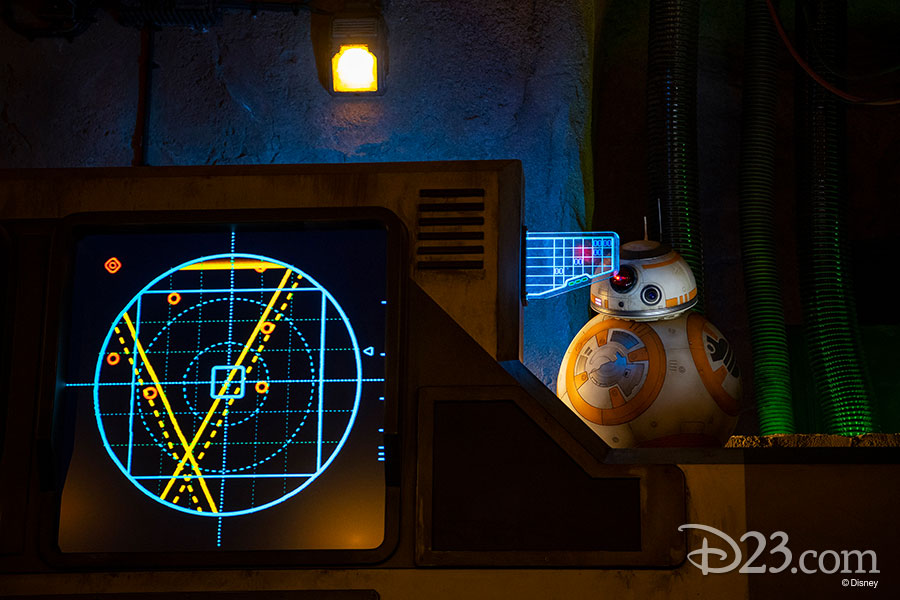 When the ride begins, BB-8 and Rey will ask participants to join a mission to fight the First Order and a door will open to take you outside where you will walk past Poe Dameron's X-Wing. You will then board the first ride vehicle, a ship on a busy flight deck as 50 or so guests board together, piloted by Nien Nunb.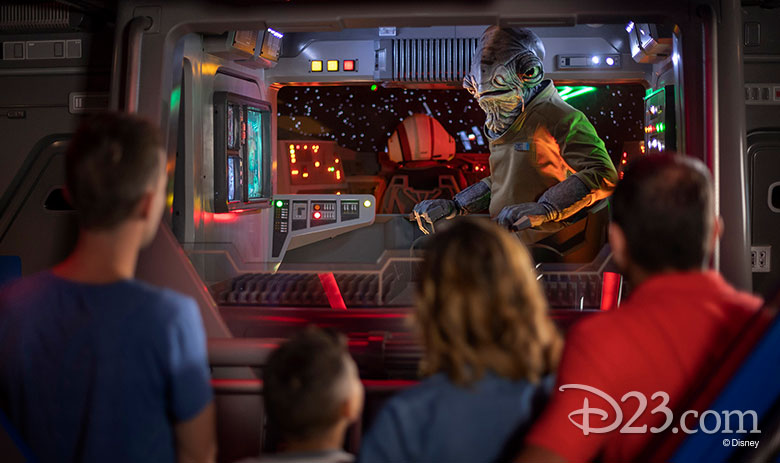 Things will appear to go well from first glance outside the high-tech monitor windows but soon you'll be sucked inside a Star Destroyer.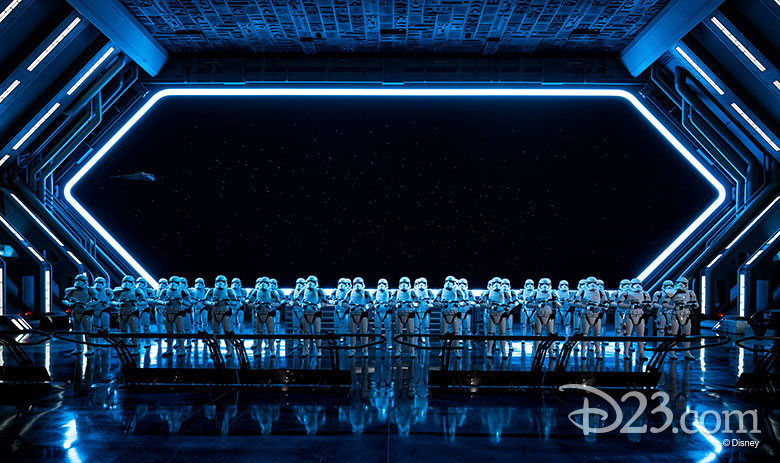 Once you're taken prisoner, you will see a full-sized TIE Fighter on your right and a 100-foot window that looks out into space.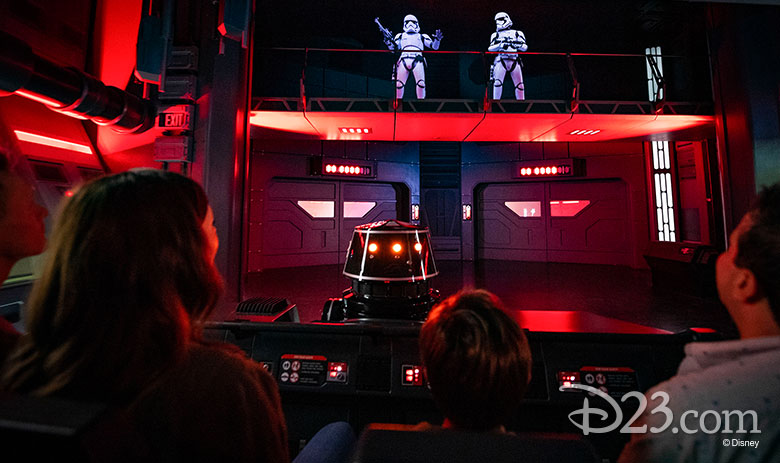 You will also be greeted by nearly 50 Stormtroopers standing attention to intimidate your group as you're brought through the vessel towards small detention cells that were modeled after the one Poe Dameron is interrogated in during "The Force Awakens."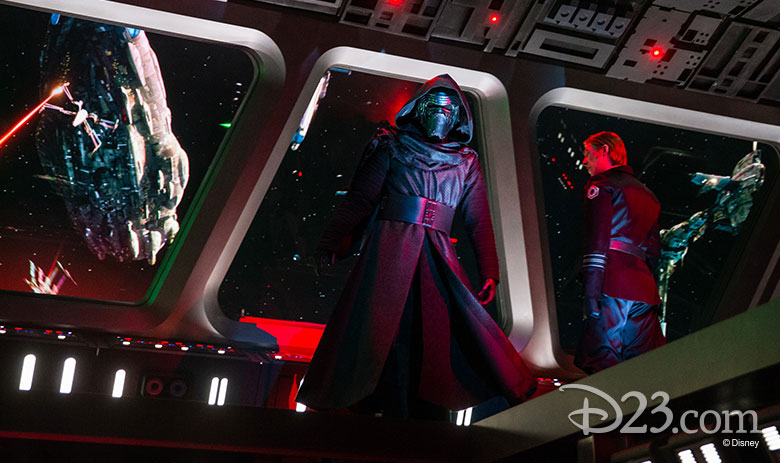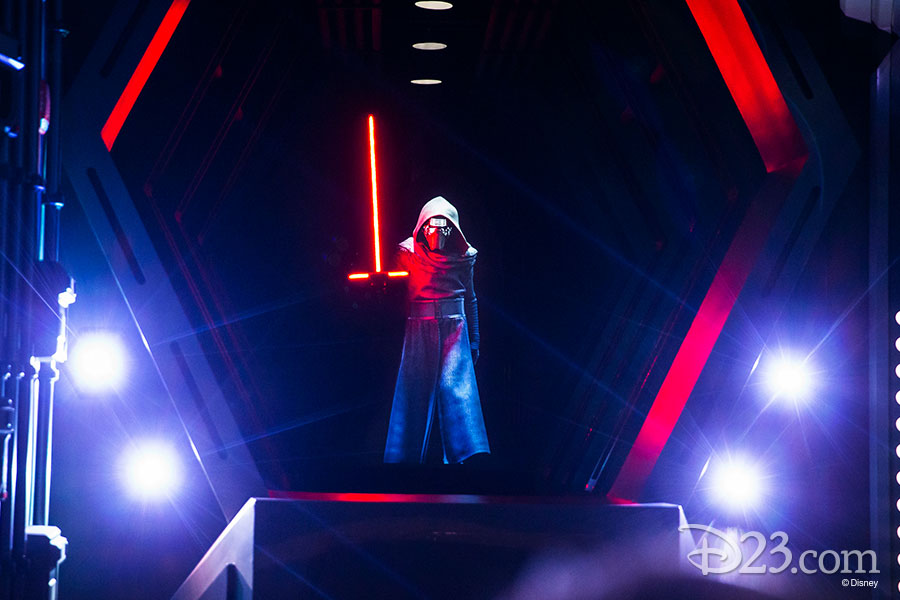 This is where Kylo Ren will make his first of many appearances as you prepare to escape the First Order's grasp. And with all of this action, this is just half of the ride!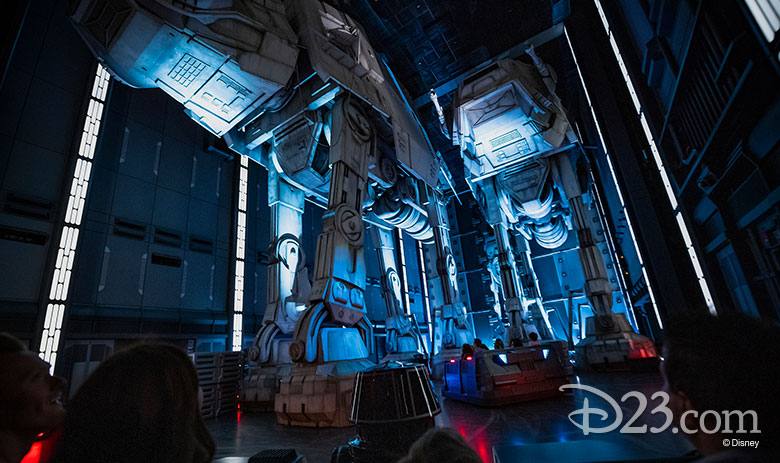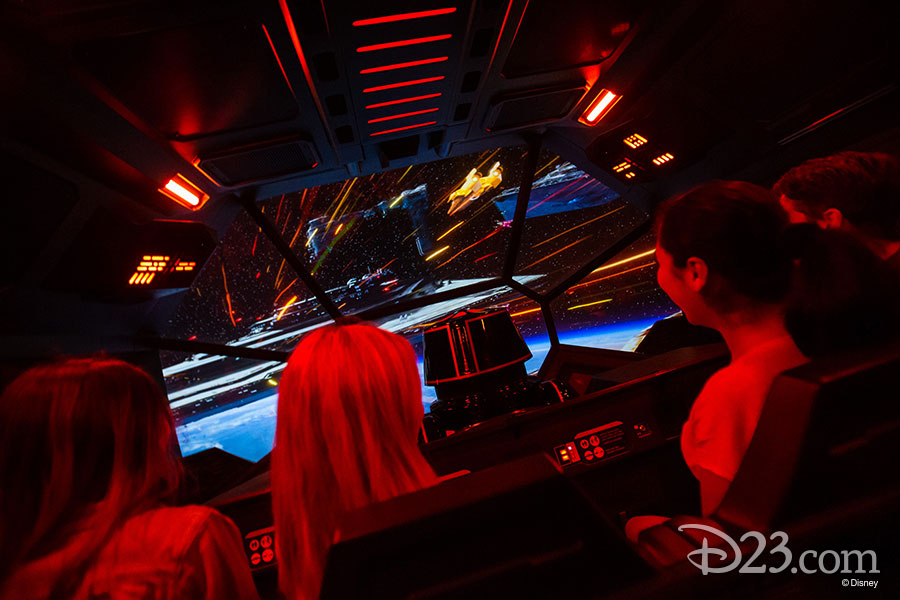 The ride will continue through a daring escape from the First Order in a trackless ride vehicle that will take you past life size AT-ATs and ending with an escape on a Resistance ship back to Batuu.
You can view the full ride through below:
Plan Your Disney Vacation!
Be sure to subscribe to our Disneyland deals newsletter for all of the latest information on deals and saving tips to help you save money and experience more! Sign up here. Also, be sure to join us on our Facebook page for Disneyland planning tips and info. Click HERE.
You can discover more about planning your trip to Disney World from these links:
Disclosure: We have used all the products recommended on Mickey Visit. We may receive compensation when you click on links to some products featured.