Top 10 Snacks at Walt Disney World to Use Your Dining Plan Credits On
If you decide to purchase a dining plan for your vacation to Walt Disney World then it's always a good idea to try and maximize your dining credits as much as possible for snacks at Walt Disney World. For each tiered dining plan you purchase for your vacation you will be allotted a certain amount of 'snack' credits. This list will help you find food items that qualify as snacks under the dining plans but in reality are as filling as a meal or just a real good bargain.
Save on your stay! Discount Walt Disney World tickets! Start preparing now for your Walt Disney World vacation and book your hotel with the best prices! Make sure you are getting the best deal for your vacation! Book now >
Most often the items that are considered as a snack at Walt Disney World are items like popcorn, ice-cream bars, coffee, tea, milk, juice, fruit, bags of snacks, and soda. Items that don't qualify are anything that comes in a souvenir container and items that are not considered a single serving. Usually snacks won't cost more than $5 dollars so trying to pick items that are as close to that $5 mark as possible for your snack credits is a wise choice. And besides the typical snack offerings there are actually quite a few finds around the theme parks that are beyond the typical popcorn scoop or ice-cream bar!
1. Mickey Pretzel
You can find the Instagram worthy Mickey shaped pretzels throughout the parks and they count as a snack credit! One pretzel is often enough to fill you up for awhile and if you're looking ahead to a big dinner, using your snack credits for pretzels can serve as a light lunch.
2. French Onion Soup
The French Onion Soup at the Be Our Guest restaurant inside Fantasyland is known for being a delicious dining option in itself. And believe it or not, this soup qualifies as a snack credit!
3. Funnel Cakes
You can use your snack credits on the funnel cakes you can find around the Walt Disney World resort! Considering most funnel cakes are priced at an average of $7 this is a great way to maximize your money for snacks at Walt Disney World. And they're delicious!
4. Dole Whip
Definitely plan on setting aside some snack credits for this Walt Disney World staple in Adventureland. Most guests plan on getting Dole Whips to begin with so why not use your snack credits for yours?
5. Bisque de Homard
At the World Showcase in Epcot, you can find a lobster bisque at Les Halles Boulangerie-Patisserie! Believe it or not, this lobster rich item counts as a snack credit. This is a great value for your credits making it a great choice for our top ten list of snacks at Walt Disney World.
6. Pastries at Les Halles Boulangerie & Patisserie
Epcot is known for having some of the best bakeries in Walt Disney World and Les Halles Boulangerie & Patisserie is no exception! Utilize your snack credits on the delicious and filling pastries in this shop as you plan your list of snacks at Walt Disney World.
7. Homemade Ice-Cream Sandwiches
You can find these all around the Walt Disney World kiosks as you watch them scoop your ice-cream sandwich right in front of you making them 'homemade' in many guests' opinions. These snacks at Walt Disney World are pretty filling and lets you get the most bang for your buck.
8. Night Blossom at Pongo Pongo in Pandora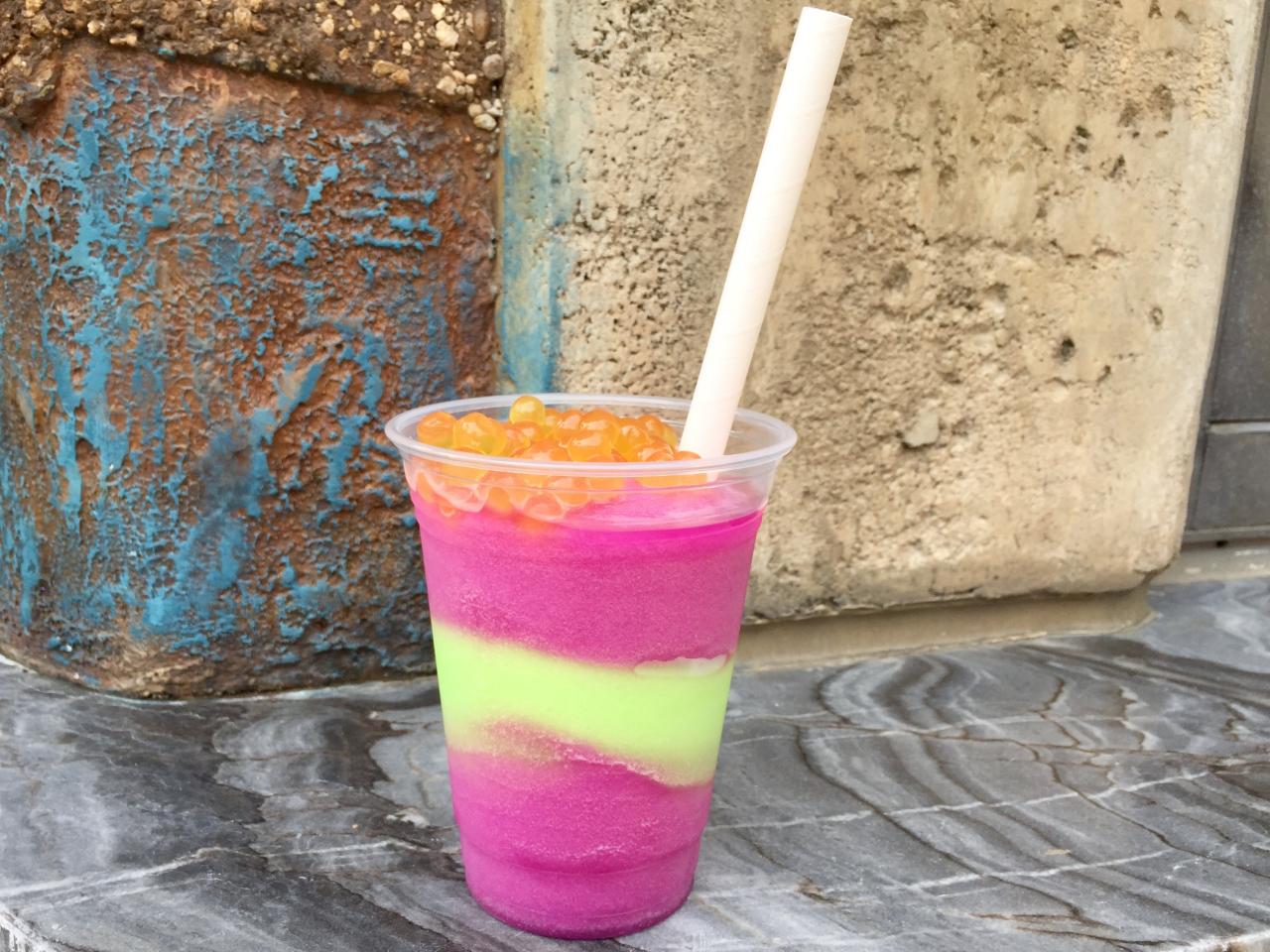 Since most guests find their way into Pandora- The World of Avatar on their trip anyways you might as well get yourself a novelty drink from Pongu Pongu! This drink, called the Night Blossom, is layers of apple and dessert pear limeade topped with passion fruit boba balls. Keep in mind, using a snack credit for this item only works if you get it without the souvenir cup. It's so pretty, it had have a spot on our snacks at Walt Disney World list!
9. Starbucks Drinks
Since the Starbucks drinks at Main Street Bakery are a bit more expensive than regular Starbucks locations, being able to use your snack credits for your coffee is a great value here. And who doesn't need some Starbucks to keep you going throughout the day? Actually many of the items in the Main Street Bakery are eligible for snack credits so this is a great stop to make which is why it makes our top ten list of snacks at Walt Disney World.
10. Gourmet Cupcakes
In all the Walt Disney World theme parks you will find an abundant selection of gourmet cupcakes featuring many different Disney themes. These cupcakes are filling, pretty, and definitely gets the most value for your snack credit as many are priced at nearly $6. You can also take on quick-service meal credit and convert it to count as three snack credits if you purchase those three snacks at one time. This is a popular thing for guests to do on their way out of the parks if it turns out they have leftover meal credits. Take a few cupcakes home with you to enjoy!
Ready to Enjoy Snacks at Walt Disney World!
Get started now planning your Disney vacation! Subscribe to our FREE newsletter where you will find a world of helpful planning information, exclusive Disney deals, and access to the lowest priced Disney tickets anywhere. You can find more information on planning your vacation here:
Disclosure: We have used all the products recommended on Mickey Visit. We may receive compensation when you click on links to some products featured.