Seven of the Best Fashion Tips for a Disney Parks Vacation
When it comes to Disney fashion tips, it can be difficult to balance comfort and looking good when you know you'll be walking nearly 8 miles a day. But that doesn't mean you have to sacrifice style for comfort! You can easily incorporate fashionable clothes into your daily itinerary that are comfortable, look great, and leave you with pictures you will feel good about forever.
Here are my top Disney fashion tips for staying fashionable and incorporating some pixie dust into your wardrobe on a Disney vacation!
Discount Disneyland Tickets
Our favorite Disney-approved re-seller, Get Away Today,offers the best Disneyland discount tickets around. In addition to great discount prices, their customer service and easy support is absolutely fantastic. They have an entire department dedicated to making sure every order has a wonderful experience and they are on-call to help you during your vacation if you need them..
Book your discount tickets NOW >
Buying tickets from Get Away Today is easy and convenient since all their tickets are sent electronically. You can take their vouchers and head straight to the gate without needing to wait in any ticket booth lines. They also offer layaway plans so you can pay off your vacation over time.
You can read my review on my personal experiences booking through Get Away Today and how much you can save here!
1. A Variety of Shoes Works Best
This is hands down the most important of the Disney fashion tips- bring a variety of shoes that are comfortable. These days there are so many athletic shoes that are cute and comfortable. One of my favorites is Sketchers with the memory foam insoles. They come in so many cute colors like beige/pink or grey/purple so they're a bit more fun than the average tennis shoe. If Converse works for you, that is also a comfy choice that pairs well with shorts and a tank. As for sandals, Birkenstocks are hands down my staple for comfort and style. I have walked all day long at Disneyland in Birks and never felt any pain. I typically get the ones with the 'soft footbed' and have found those to be extremely comfortable for walking.
Sometimes I will change shoes halfway in the day if we head back to the hotel, especially if I know we're going to eat somewhere nice for dinner. Then I might swap my athletic shoes for Birks that pair better with a sundress or other cute outfits.
Either way, make sure you bring shoes that are broken in and you know are comfortable. Definitely avoid heels unless you have a pair of flip flops to switch to immediately because I guarantee you won't last long! Unless you're visiting on Dapper Day because heels aren't always optional with those folks.
2. Utilize Etsy for Disney Inspired Tanks and Tees
Oh Etsy, how I love thee. Let me count the ways! There is an overwhelming huge amount of Disney themed tank top stores on Etsy these days! So many cute designs to choose from. I like getting tanks (like the one pictured above) and tying a knot on the side. They're cute, they have Disney flair, and I can pair them with shorts and athletic shoes so I'm comfortable. You can also find an abundance of Minnie ears on Etsy that are more comfortable than the Disney Parks headbands and that come in a larger variety of styles.
Disney fashion tips advice: Make sure that you measure before you order any tanks or shirts on Etsy- many of the shops on there don't take returns or exchanges for made to order items so you should definitely double check your size.
3. Wear Good Quality Makeup
The time for cheap makeup isn't when you're going to be outside in the sun for 10+ hours in a day. Splurge for some good makeup, if you don't have it already, to wear to the parks if keeping your makeup on is important to you.
My absolute favorite thing to bring with on vacation is Urban Decay All Nighter Setting Spray. I spray this to set my makeup in the morning and it keeps it looking fresh all day. Fun story: I rode Splash Mountain in the first row and got absolutely drenched. My makeup was not smudged at all because I was wearing this spray!
Another favorite of mine, especially for battling humidity, in terms of haircare is Bumble's Be Strong Finish hairspray. I have thick hair that already fights me with holding a curl or wave but I spray this in my hair and it keeps any curls set in my hair for most of the day. I know California isn't known for humidity but coming from dryer states (like my home state of Colorado!) it can be a change for the hair.
Speaking of hair, do you want your hair to be wavy or have curls that stay? Try a curling wand- I always have better and longer results with a curling wand than a curling iron any day. Throw a clip in your park bag so you can put it up when it's too hot but it won't leave a dent in your hair like a hairband would.
Disney fashion tips advice: One money and space saving thing I do for transporting all my makeup and hair products: I look on eBay for trial size items that are easier to transport in my suitcase and that might fit in my park bag.
4. Change in the Afternoons
One of our favorite Magic Morning traditions, well my favorite anyways, is to get our best family picture in front of the castle before the crowds fill up. You have less people in the background and your hair/makeup still looks perfect. One thing I will do, if I know we're going to head to the hotel in the afternoon, is wear more 'typical clothes' like a sundress. Then I can change in the afternoon to something more park friendly (shorts/tank/tennis shoes)- I still have our pictures with everyone in nice clothes but I know I'm not committed to wearing that all day.
Changing in the afternoon is also good for saving sore feet by swapping shoes for a different pair. This will help tremendously. Or if you know you're going something nice for dinner, Blue Bayou or Carthay Circle, you can change out of your day park clothes into something a little more nice. You're on vacation- it's fun to dress up.
Disney fashion tips advice: you can wear dresses and still ride the rides with comfort- just wear a pair of shorts under your dress and you won't be as worried about any malfunctions! You can find tons of spandex/bicycle type shorts on Amazon for cheap that can easily be worn under dresses. Rompers work well for this too but can be a pain when you have to use a restroom. The Disney Dress Shop in Downtown Disney has a wide selection of beautiful dresses that are just dying to be worn in the parks.
5. Dress in Layers
Layers, layers, layers! Trust me, you'll thank yourself. When you first arrive to the parks, at Rope Drop like you read to do here on Mickey Visit, it will be just a bit chilly. I always like to bring a really lightweight sweater- I have found some at Kohl's that are thin enough to keep me warm if I'm wearing a tank but small enough to fit in my bag.
If you're visiting in the winter season, layers are even more crucial. When we visited Disneyland in December, I often paired my cute Etsy tanks/shirts with flannels that I could easily tie around my waist.
Jean jackets are also one way to make a more run of the mill outfit much more exciting. You can pair a jean jacket with a dress or with black/olive green shorts and your favorite Disney tank. Throw the jean jacket on for your table service dinner to feel a bit more fancy.
Disney fashion tips advice: Both Disneyland and Walt Disney World have lockers to rent if you don't feel like carrying those layers around with you!
6. Add Disney Flair to Your Fashion
You can discreetly add Disney flair to many of your outfits with ease. Disney Bounding is one popular way that guests incorporate Disney character inspired clothes without directly wearing t-shirts with Disney references on them.
Getting some Minnie Ears are key are a staple of any 'Disney fashion' choice outside of the above examples. Etsy has a plethora of unique Minnie ears for sale, I have an embarrassing large collection but when I wear them to the parks I always get compliments. Try to match them with your outfit for a fun picture. I have a Toy Story themed tank and Toy Story themed Minnie Ears so I will often wear those together. They make for fun pictures!
The Disney stores also have a huge variety of stylish Disney tanks, shirts, and dresses to choose from. Spirit jerseys are a popular choice these days with many ladies coordinating their Minnie Ears to match their jersey.
You can also find cute and a bit more subtle Disney tank top options at Kohl's, Target, and Hot Topic. I have found many cute styles at those stores for a good price.
7. Accessorize with Purpose and Style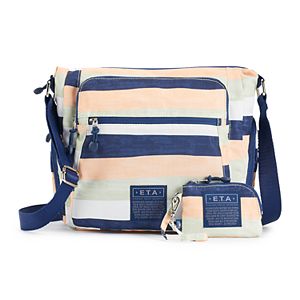 When it comes to Disney fashion tips, accessories can be an overlooked topic. I definitely recommend avoiding carrying a gigantic backpack through the parks. Store that beast in a locker or opt for bringing a smaller purse. It's hard to look stylish when you're weighed down by a 40lb backpack!
My favorite type of purse to bring is one that has a crossbody strap and a shoulder strap. This way I can alternate the way I'm wearing it when I'm feeling worn out. For the longest time my favorite style has been this one on the Kohl's website. I usually have good luck with their purses for the parks and since many are priced affordably, I don't feel heartbroken if I get them wet or spill Dole Whip on them. But I just recently bought this purse for our next visit and I think it's going to work perfectly. It's made of material that easily wipes clean and has an amazing amount of pockets for storing everything we need. Make sure you wear your purse in before you bring it to make sure it's comfortable. Take it with you to the zoo or a festival so you can get an idea of how it feels carrying it all day when you're walking.
I'm a big fan of jewelry and when I visit Disney, it's no exception. I do try to avoid dangling necklaces because I've found I often get them stuck on things and then my son has something to laugh at me for the rest of the day. But I am a fan of Mickey watches and bracelets so I will often wear those to the park to give myself some Disney flair.
And of course, don't forget your Minnie Ears! That's a must have for any Disney fashion tips guide!
Plan Your Disney Parks Vacation!
Subscribe to our FREE Deals Newsletter that is designed to provide expert planning tips, exclusive Disney deals, and access to the lowest priced Disney tickets anywhere. You can find more information on planning your vacation here:
Disclosure: We have used all the products recommended on Mickey Visit. We may receive compensation when you click on links to some products featured.